Williams goes ahead with flotation
| | |
| --- | --- |
| | Friday, February 4th 2011, 19:06 GMT |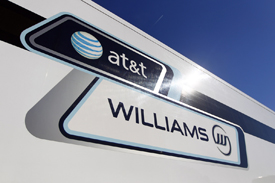 Williams has announced that it is to go ahead with a stock market flotation, launching an Initial Public Offering (IPO) on the Frankfurt Stock Exchange.
Last month the team said it was considering the unusual step as a method of enhancing its long-term financial future.
A statement from the team announcing the move said: "The offering will consist of up to 27.39 per cent or 2,739,383 existing shares, with a nominal value of GBP 0.05 each, of which up to 330,000 shares will come from an over-allotment option. Sir Frank Williams will remain the majority and controlling shareholder of Williams and Team Principal of the AT&T Williams team.
"Bookbuilding is expected to begin on 9 February 2011 and is scheduled to conclude on or around 28 February 2011. The first day of trading on the Entry Standard segment of the Frankfurt Stock Exchange is expected on 2 March 2011. The bookbuilding price range and final placement price are expected to be published on or around 9 February 2011 and 28 February 2011 respectively."
It added: "Swiss-based Bank am Bellevue will act as sole global co-ordinator and sole global bookrunner. Baader Bank will be joint lead manager and local bookrunner for Germany. Austrian GBR Financial Services and Online Brokers DAB (Germany) and Brokerjet (Austria) will be selling agents.
"The IPO will include a public offering in Germany, the UK, Austria and Switzerland and a private placement for institutional investors outside Germany, the UK, Austria and Switzerland, the United States of America, Canada, Japan and Australia."
Speaking when the outfit first announced that it was considered a flotation, team boss Sir Frank Williams said the intention was to ensure his operation's long-term financial health, rather than gaining a quick cash boost.
"For some years I have been considering how to secure the long-term ownership of Williams such that it will remain true to the aims with which Patrick [Head] and I established the team back in 1977," Williams said.
"My goal then was to race in Formula 1 as an independent constructor. This was and is my great passion and I will race for as long as I continue to be blessed with good health. It is also my desire that the team is in good shape to go on racing long after I am gone.
"To that end, it is prudent and necessary to plan for an ownership structure that will enable Williams to be an independent Constructor, owned and staffed by people committed to Formula 1 and to the sound business practices which have supported us over three decades.
"I have concluded that the option which will best achieve this is to broaden our shareholder base with public shareholders, while having a stable core of long-term investors closely involved in the running of the team. This will ensure stability, good governance and will, I believe, enable us to attract and retain the best people and partners."