Hamilton eyes title with new McLaren
| | |
| --- | --- |
| By Pablo Elizalde | Friday, February 4th 2011, 12:06 GMT |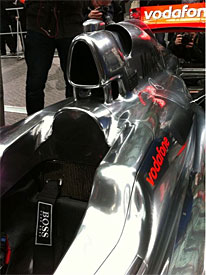 Lewis Hamilton is fired up ahead of the start of the 2011 season following the unveiling of the new McLaren MP4-26.
The car, which sports radical U-shaped sidepods, also features an all-new electric hybrid system and a completely new aerodynamic package.
Hamilton is hopeful the new challenger will be strong enough to fight for victories.
"I hope the car proves just as innovative once we take to the track next week," said Hamilton. "I head into 2011 in a relaxed but determined frame of mind.
"I've spared nothing during my winter fitness preparations and, in many ways, I feel as fit, focused and refreshed as I did ahead of my first season in Formula 1 in 2007.
"Having spent the past few weeks talking with our designers and engineers, I feel extremely happy that we've created a car that will once again allow us to fight at the front."
The Briton admitted his sole goal is to fight for the title once again.
"This will be my fifth season in Formula 1," he added. "So my aim for this year is to ensure that everything comes together in the best possible way and that, like last year, I'm able to fight for the title right down to the final race.
"Of course, Jenson and I will be racing alongside three fellow world champions in 2011, and that's a testament to the strength of Formula 1 right now.
"It's incredibly hard to say who'll be up at the front, but I'm an absolute racer and I'm looking forward to some fantastic, close racing and another thrilling conclusion to the season - hopefully with a McLaren driver on top!"
Team-mate Jenson Button, who joined the team from Brawn GP last year, is aiming to build on a sold first season with McLaren.
"It's strange to think that this is only the start of my second season at Vodafone McLaren Mercedes, because I've felt so comfortable since joining the team last January," he said.
"I'm really looking forward to getting to drive the new car for the first time. Our pre-season simulations suggests that the new Pirelli tyres should be well-suited to my particular driving style, so I'm hopeful of being able to derive a good advantage from the tyres during the races.
"Today really marks the beginning of our 2011 season after what seems a very long time away from the track. It's been a really exciting event for all the fans who attended, and now I can't wait to get behind the wheel of MP4-26 for the first time next week."