Schumacher backs rear wing rules
| | |
| --- | --- |
| By Jonathan Noble | Friday, February 4th 2011, 10:12 GMT |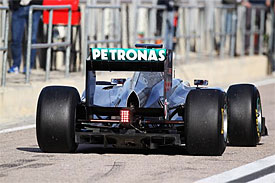 Michael Schumacher believes the FIA's implementation of the moveable wings rules this year will be a success - because overtaking is still not going to be too easy.
As AUTOSPORT exclusively revealed on Thursday, the FIA has decided to limit use of the moveable wing to a 600-metre zone at the end of a track's main straight – but is ready to tweak that distance if passing is too easy or still too hard.
F1 technical figures reckon that the overtaking area may be too short to start with – but there is general agreement that the moveable wing rules should not make overtaking too easy.
Schumacher himself reckons that the balance appears to be right so far – although teams and drivers will only likely find out at the first race of the season.
"The rear wing, I think it is an innovation - a good innovation," explained Schumacher, who tried out the wing during testing at Valencia this week. "I am happy to see developments like this.
"But the simple fact is that we know we have an issue in F1 to follow other cars, and until we have changed the relationship between mechanical grip and aerodynamic grip in a massive direction, so that you can follow other cars easier, you need something to at least come close to the car in front. And this [the wing] is what may help you.
"We have nothing as a tool where we can just push a button, we overtake and we leave the guy in front. That is not the case. You may just close the gap, get in the slipstream and then you can have a fight with somebody that last year, or in the past, was very often not the case. If it is sufficient already in the way it is done I am not sure yet, but honestly it might still be too little."
AUTOSPORT understands that the FIA's decision to begin experimentation with a 600-metre zone is because it does not want overtaking to become so easy that it makes a mockery of the racing.
Williams technical director Sam Michael reckoned that the initial distance will still make overtaking difficult – although that was not such a bad thing.
"I don't think it [the 600 metre distance] will be very effective," said Michael. "It has to be much longer than that.
"For it to be effective, you have to have it for the entire straight. But it depends what you want to do. If you want to have an overtaking move that is just impossible now, to just about possible, than that will do it. I don't think you'll ever get to the position where people just drive past; it's just not strong enough to do that."