Grosjean sets Abu Dhabi test pace
| | |
| --- | --- |
| By Pablo Elizalde | Wednesday, February 2nd 2011, 15:12 GMT |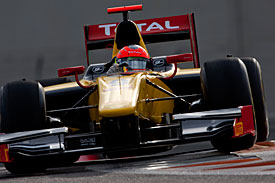 Renault's reserve driver Romain Grosjean set the pace on the opening day of GP2 Asia series testing at the Yas Marina circuit in Abu Dhabi.
The Frenchman, who will race in the series with the DAMS team, posted the best time of the day in the afternoon following a very slow morning, during which there was very little running due to the track conditions.
A sandstorm on Tuesday meant the track was too dusty for any significant work to be carried out, and most drivers settled for installations laps.
Conditions improved in the afternoon despite some early rain, however, and Grosjean emerged on top with a time that was around half a second quicker than his closest rival, Jules Bianchi in the ART car.
GP3 Series graduate Stefano Coletti, quickest in the morning, was third fastest in the afternoon with the Trident car, with the two Addax cars of Giedo van der Garde and Charles Pix completing the top five.
The test continues tomorrow.
Morning times:
Pos  Driver               Team                Time                  Laps
 1.  Stefano Coletti      Trident             1m54.161s             8
 2.  Max Chilton          Carlin              1m54.810s  + 0.649s   5
 3.  Rodolfo Gonzalez     Trident             1m55.347s  + 1.186s   8
 4.  Giedo van der Garde  Addax               1m55.496s  + 1.335s   5
 5.  Nathanael Berthon    Racing Engineering  1m55.803s  + 1.642s   6
 6.  Dani Clos            Racing Engineering  1m56.654s  + 2.493s   7
 7.  Oliver Turvey        Ocean               1m57.134s  + 2.973s   6
 8.  Charles Pic          Addax               1m57.408s  + 3.247s   5
 9.  Andrea Caldarelli    Ocean               1m58.195s  + 4.034s   7
10.  Pal Varhaug          DAMS                1m59.827s  + 5.666s   8
11.  Fairuz Fauzy         Super Nova          2m00.373s  + 6.212s   4
12.  James Jakes          Coloni              2m01.180s  + 7.019s   3
13.  Johnny Cecotto       Super Nova          2m02.287s  + 8.126s   5
14.  Esteban Gutierrez    ART                 2m07.039s  + 12.878s  4
15.  Luiz Razia           AirAsia             2m19.672s  + 25.511s  10
16.  Michael Herck        Coloni                                    2
17.  Marcus Ericsson      iSport                                    1
18.  Sam Bird             iSport                                    1
19.  Josef Kral           Ardent                                    1
20.  Jolyon Palmer        Arden                                     1
21.  Romain Grosjean      DAMS                                      1
22.  Julian Leal          Rapax                                     1
23.  Mikhail Aleshin      Carlin                                    1
24.  Davide Valsecchi     AirAsia                                   1
25.  Fabio Leimer         Rapax                                     0
26.  Jules Bianchi        ART                                       0

Afternoon times:
Pos  Driver               Team                Time                 Laps
 1.  Romain Grosjean      DAMS                1m49.768s            39
 2.  Jules Bianchi        ART                 1m50.212s  + 0.444s  30
 3.  Stefano Coletti      Trident             1m50.388s  + 0.620s  9
 4.  Giedo van der Garde  Addax               1m50.474s  + 0.706s  21
 5.  Charles Pic          Addax               1m50.477s  + 0.709s  20
 6.  Michael Herck        Coloni              1m50.526s  + 0.758s  29
 7.  Marcus Ericsson      iSport              1m50.580s  + 0.812s  16
 8.  Esteban Gutierrez    ART                 1m50.727s  + 0.959s  31
 9.  Josef Kral           Arden               1m50.820s  + 1.052s  17
10.  Oliver Turvey        Ocean               1m50.992s  + 1.224s  19
11.  Davide Valsecchi     AirAsia             1m51.004s  + 1.236s  21
12.  Nathanael Berthon    Racing Engineering  1m51.046s  + 1.278s  22
13.  Max Chilton          Carlin              1m51.111s  + 1.343s  17
14.  Julian Leal          Rapax               1m51.127s  + 1.359s  19
15.  Rodolfo Gonzalez     Trident             1m51.169s  + 1.401s  29
16.  Pal Varhaug          DAMS                1m51.362s  + 1.594s  30
17.  Andrea Caldarelli    Ocean               1m51.396s  + 1.628s  26
18.  Luiz Razia           AirAsia             1m51.505s  + 1.737s  32
19.  Fabio Leimer         Rapax               1m51.636s  + 1.868s  21
20.  Jolyon Palmer        Arden               1m51.662s  + 1.894s  25
21.  Mikhail Aleshin      Carlin              1m51.765s  + 1.997s  17
22.  Fairuz Fauzy         Super Nova          1m52.021s  + 2.253s  23
23.  Johnny Cecotto       Super Nova          1m52.206s  + 2.438s  30
24.  James Jakes          Coloni              1m52.587s  + 2.819s  9
25.  Sam Bird             iSport              1m52.616s  + 2.848s  4
26.  Dani Clos            Racing Engineering  2m05.096s  + 15.328s 21