Virgin appoints Ian Phillips as COO
| | |
| --- | --- |
| By Jonathan Noble | Wednesday, February 2nd 2011, 09:58 GMT |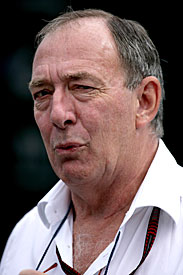 Virgin Racing has undertaken a management reshuffle ahead of the 2011 season, which will see the return to Formula 1 of former Jordan, Midland and Force India commercial chief Ian Phillips.
With Virgin due to unveil its new car in London next week, the team has appointed Phillips - who left Force India before the start of last season – as its new chief operating officer. He is already present with the team at this week's Valencia test.
Graeme Lowdon, who was Virgin's chief executive officer, will move to new role as team president – where he will focus on enhancing the team's position in the sport as its representative at the Formula 1 Commission and within the Formula One Teams' Association (FOTA).
Replacing him as CEO will be Andy Webb, who is the UK managing director of Virgin's title sponsor Marussia Motors. Nikolay Fomenko, president of Marussia Motors, has been appointed as engineering director.
John Booth will remain in his role as team principal and director of racing.
Virgin Racing's chairman Darryl Eales said: "The board of directors has reviewed and
examined all aspects of the team's commercial and racing operations during its debut F1 season in order to ascertain what is required to move the team forward quickly and prudently.
"The changes announced today, together with Marussia's wealth of knowledge and experience, provide us with a solid foundation as we enter our second season. I believe we are very fortunate to have such depth of commercial and racing leadership as we embark on the next step in our ambitious plans for the team.
"Moreover, Marussia's firm commitment will continue to enable us to put in place the right people, resources and infrastructure to ensure the team advances significantly over the next two seasons and beyond. I have no doubt the team can look forward to exciting and rewarding times ahead."