Bourdais eyes Coyne IndyCar seat
| | |
| --- | --- |
| By Matt Beer | Tuesday, February 1st 2011, 19:38 GMT |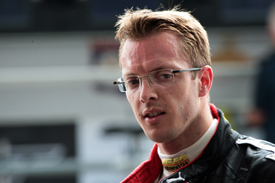 Four-time Champ Car champion and ex-Formula 1 driver Sebastien Bourdais is eyeing a return to America single-seaters with Dale Coyne Racing's IndyCar team.
Bourdais tested with the squad at Sebring yesterday, and confirmed that he hopes it will be a precursor to a deal with Coyne.
"The car was very good and it really felt good to be back in an IndyCar," Bourdais said. "I was not sure what to expect, but I was impressed with the way the car handled, and look forward to putting together the pieces to get back into IndyCar racing.
"I really believe in what Dale is doing with his team and it can be a great workable opportunity for both of us this year."
After dominating Champ Car from 2004-07, Bourdais left for F1 and a disappointing Toro Rosso stint which ended in mid-2009 when he was dropped in favour of Jaime Alguersuari. The 31-year-old Frenchman has subsequently appeared in the Superleague Formula and with Peugeot's Le Mans team.
Although Coyne's team has just one win to its name from over two decades in Champ Car and IndyCar, it has a history of achieving shock underdog results with top drivers, having previously run the likes of Bruno Junqueira, Cristiano da Matta and Justin Wilson.
Alex Lloyd and Milka Duno drove Coyne's cars in 2010, with Lloyd's fourth place at Indianapolis the team's best finish of the season.
Team owner Coyne said the potential signing of Bourdais was part of his big ambitions for the team.
"We have talked with Sebastien before and this is an opportunity that has great potential," he said. "We are very serious about moving our effort forward and this, coupled with the continuing Boy Scouts of America [sponsorship] programme from last season, is one of the most important steps in that direction we can possibly make."
Coyne also tested Indy Lights frontrunner Martin Plowman, and was extremely impressed with the 23-year-old Briton.
"We have tested a lot of new drivers over the years, and you generally know what you have on the first day," said the team boss.
"Martin is one of the best that we have seen and we look forward to a positive growth curve with this aspiring young talent."