Ford's preparations 'better than ever'
| | |
| --- | --- |
| By David Evans | Tuesday, February 1st 2011, 06:42 GMT |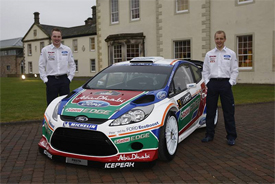 Ford team principal Malcolm Wilson says his squad feels in its strongest ever position going into this year's World Rally Championship.
The Cumbrian-based team has collected more testing data than ever before on a new World Rally Car, which Wilson admits is a previously unknown luxury. And, while he aims to put it to good use at the season opening Rally Sweden next week, he says the Fiesta RS WRC's true test will not come until round three, the Rally of Portugal.
"In years gone by, we've done a day here and there before we've had to start the first event," said Wilson. "But with the Fiesta, we've done thousands of miles of testing and we've had time.
"That does add pressure, but it also means we're better prepared than ever. It's a very exciting way to start the new season, but one thing is for sure, Citroen will not have stopped developing or testing their car.
"We have a good track record in Sweden, both of our drivers [Mikko Hirvonen and Jari-Matti Latvala] have won there, but Sweden is quite a specific event. At the same time, with the altitude, Mexico is a little bit the same in round two. I don't think it's until we're down at sea level in Portugal that we'll really see where we're at with the cars."
As part of its commitment to the WRC this season, Wilson's M-Sport firm will not run any Super 2000 cars at all this year, focusing its attentions only on running the Fiesta RS WRC.
"We've got nine cars running in Sweden," added Wilson. "But by Portugal we'll have 10. We're not going to release the cars to the customers just yet, that will come later in the season. It's going to be a very busy year for us, but it's one that we're all very excited about."