Demands on drivers 'unacceptable'
| | |
| --- | --- |
| By Jonathan Noble | Saturday, January 29th 2011, 16:41 GMT |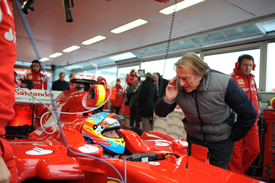 Formula 1 technical chiefs are to keep a close check on whether drivers are struggling with being asked to operate too many buttons on their steering wheels this year - with Ferrari suggesting the situation could have reached an 'unacceptable' level.
A number of drivers have already voiced concerns that safety could be compromised in 2011 because of the number of controls they are now being required to operate in the cockpit - which can be a distraction while they are trying to race their cars at the limit.
As well as the normal car items like radio, differential and brake balance controls that drivers will regularly operate on a lap, for 2011 drivers are going to have to flick switches to power up and activate KERS, as well as make use of the moveable rear wing.
Ferrari technical chief Aldo Costa has now backed the concerns that his drivers have expressed about the matter – and revealed that F1 think-tank the Technical Working Group is looking into the situation.
"We have reached an unacceptable threshold," said Costa, whose team became the first to run its 2011 car at Maranello on Friday.
"We are discussing it in the TWG, and evaluating that aspect by means of simulator. We are considering whether drivers can physically manage all these components, and it is a bit of an extreme situation."
Fernando Alonso admitted earlier this year that the button situation could be particularly troublesome in grands prix where drivers were not racing in perfect conditions.
"The only difficulty...will be buttons on the steering wheel and a very short time you have to make some decisions, to react to buttons and still drive the car," he said about the 2011 regulation changes. "So in some of the cases in wet races, poor visibility, things like that, we need to check."