Budget deadline still looms for teams
| | |
| --- | --- |
| By Jonathan Noble and Dieter Rencken | Friday, January 28th 2011, 14:30 GMT |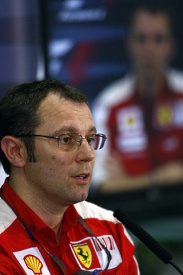 Uncertainty over whether any Formula 1 teams did overspend last year will remain until at least early March, Ferrari team principal Stefano Domenicali believes, with the final deadline to submit budgets still several weeks away.
The last few weeks have been full of speculation that some outfits - including world champions Red Bull Racing - may have overspent in 2010 and therefore breached the terms of the Resource Restriction Agreement (RRA).
Although it had been thought that suspicions above overspending had been fuelled because accounts had been lodged with the Formula One Teams' Association (FOTA), the final deadline for doing so is until the end of February.
That means that Red Bull Racing's insistence that it complied fully with the RRA cannot be proved for several more weeks - although Domenicali said he hoped that in the end it will be shown everyone did hit their targets.
"It [the budget limit] was effective for our dimension, and for all the big teams we need to be very transparent on that," he said at the launch of the new Ferrari at Maranello on Friday.
"We are going in the right direction [with a new RRA] and we know it is something we feel obliged to respect. We have always done that and we are in the right path that, at the end of the season, we are on the target that we have all agreed to respect.
"Every month we have to give FOTA's secretary our figures, and then at the end of February there is the closing of the fiscal year. So for 2010, the dates and figures will be given at the end of February."
Domenicali said that his team's observance of the RRA had resulted in its budget being slashed by around one-third - although he voiced some concern about the amount of resource that was now needing to be put into aerodynamic development.
He confirmed that Ferrari had recently used Toyota's wind tunnel facility in Cologne to help with the development of new technologies.
"There is too much focus on aero development, and that has a huge impact on car performance," he said. "This is opposed to the requirements of a GT car and this is something we should consider, especially in respect of future regulations."
He added: "We have given up a lot and followed new directions. Knowing other teams really want to win, I think we should respect the sports rules, its technical rules, but also the engagement and commitments that are part of agreements that we have entered into
"This is something we will control, check and be sure that no-one is going against these rules."