Alonso: F150 will suit me much better
| | |
| --- | --- |
| By Dieter Rencken and Matt Beer | Friday, January 28th 2011, 13:43 GMT |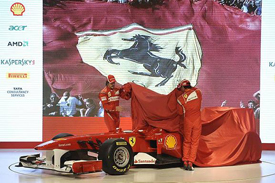 Fernando Alonso believes he will be in a much stronger position for the start of his second season at Ferrari as the team will have been able to design the F150 with his driving style in mind.
The Spaniard admitted that he had needed time to adapt to driving a Ferrari when he joined at the start of last year following two seasons back at Renault, but thinks working with the Italian squad for a full championship campaign will have meant new developments were increasingly suited to him.
"There are no doubts that when I arrived in January 2010, I drove a car that had different characteristics to what I drove in previous years," said Alonso at Ferrari's launch in Maranello today.
"Now I will drive a car that is a continuity of what I drove in 2010. I think all the developments and the direction that you go with improvements in the car over one year has some kind of definition of your driving style.
"I think that helps the designer of the car and the technical people with next year's car, so I think in 2011 there will be some kind of direction that we took in 2010 regarding my driving style.
"So I think I will feel more confident with this year's car. I will feel more comfortable driving the car, it will be more predictable to me. And I know the team now - I know the people, I know the guys, I know the names of all my mechanics, something that was not the case in Bahrain last year. So that will also help.
"Last year I didn't have the numbers of these guys [Ferrari designers] but now I do so I call them every two days to put some pressure on. Hopefully we'll see in Valencia if that pressure helped or if it was the wrong pressure..."
The double world champion insisted he was taking a neutral approach to the first tests of the winter at Valencia next week and would not get too obsessed with the car's initial speed.
"Today we have no big concerns," said Alonso. "We know that this is the start of the season. We don't have a great expectation, we don't have big problems.
"There is a lot to do. It's only 28 January. We haven't started the tests yet. At Valencia we'll know something more, and then we'll see.
"The car [at the first race] will be very different from the cars we see in Valencia, and then again by races three and four there will be another development. The cars will change throughout the season, in such a long championship there will be many changes. So what will happen at the beginning of February is not so important.
"We will try to start the year in the best possible way, but without any panic."
He added that his personal appearance was also set to change before the opening round, saying that the beard which had attracted so much comment in recent weeks was unlikely to last until Bahrain.
"I don't think so," he said. "In Bahrain I will have a more standard look because my mother doesn't like this..."