Schumacher: I can win eighth title
| | |
| --- | --- |
| By Jonathan Noble | Thursday, January 27th 2011, 11:47 GMT |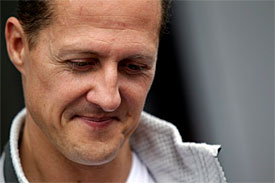 Michael Schumacher remains convinced that he will add an eighth world championship title to his name - despite his Formula 1 comeback having proved difficult at times last year.
The German returned to grand prix racing last season after a three-year absence, but his dreams of finding his way back to the winners' circle fell flat as he took time to get back up to speed and found himself struggling with Bridgestone's tyre characteristics.
However, with Schumacher having shown signs of progress towards the end of 2010, and Mercedes GP confident about the technical package it has put in place for this year, Schumacher has been left with high hopes that he can finally deliver.
In an exclusive interview with this month's F1 Racing, Schumacher said that he had no doubts about what was possible over the remaining two years of his contract.
When asked if he expected to be world champion in 2011, he said: "Absolutely. Look, we have a three-year project. Very clearly right now, we are not where we want to be. We've put a lot of effort into coming back and are optimistic we have a chance.
"But in the history of Formula 1, when does it ever happen that you come back straightaway from this level to win in just one year? Very rarely.
"So I'm sure we can fight for wins this year and we might be able to fight for the championship. I hope so. I'm here on a mission and I want to succeed. I want to perform and I'm going to put 100 per cent into it. And if that's not the case in 2011, then we will have to do it in the final year."
Mercedes GP will unveil its new W02 on the first day of the Valencia F1 test next Tuesday.