Palmer, Kral join Arden for 2011
| | |
| --- | --- |
| By Pablo Elizalde | Tuesday, January 25th 2011, 11:23 GMT |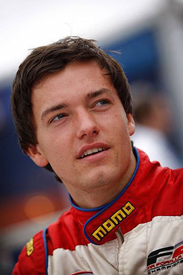 The Arden International team has announced that Joylon Palmer and Josef Kral will join its line-up for the 2011 GP2 and GP2 Asia series.
Palmer, 20, finished as runner-up in last year's Formula 2 championship and will step up to GP2, having tested for several teams during the end-of-year testing session at Abu Dhabi.
"I'm really excited to be joining the Arden GP2 Team for 2011, and I can't wait for the season to start," he said.
"It's obviously going to be very tough, as indeed it should be, but I feel confident that two seasons of F2 have given me a very good grounding and I'm looking forward to rising to the challenge.
"Arden have tremendous experience and have had great success in the past, and I hope my performances will reward the faith they have showed in selecting me."
Twently-year-old Kral competed in GP2 and GP2 Asia during the 2010 season and tested for the Hispania team during the young drivers test in Abu Dhabi.
"I am very happy to be part of Arden GP2 Team and I can't wait to start working together," he said. "After such a difficult season, when I missed some races because of my back injury I hope that we can make up for it in 2011.
"After the test in Abu Dhabi where we showed that together we can be right on the top I felt that this is the right decision.
"I am sure that Arden experience will be very helpful in the development of the new car and I will do my best to show that their choice was the right one."