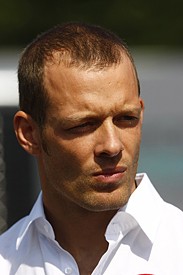 The FIA Institute has announced the shortlist of 19 drivers who will compete for places in its new Young Driver Excellence Academy.
Ex-Formula 1 driver Alex Wurz and 2001 World Rally champion co-driver Robert Reid are heading up the Academy training programme, which aims to give unprecedented support to rising young talents.
A three-day shootout will be held to decide the 10 drivers who will be part of the inaugural scheme, with the candidates to be assessed on "fitness and performance, media techniques, teamwork and psychology."
Drivers on the shortlist include Intercontinental Rally Challenge frontrunner Andreas Mikkelsen, Formula Renault 3.5 racer Albert Costa, Formula 2's Philipp Eng, Formula BMW Europe champion Robin Frijns, GP3 drivers Alexander Rossi and Josef Newgarden, and Junior WRC rally winner Kevin Abbring.
"I am delighted that so many young talented drivers have applied to participate in the first ever FIA Institute Academy," said Wurz. "It demonstrates that this type of training, focusing as much on the classroom as on the track, is highly desirable for young competitors looking to develop and progress their careers in motorsport."
Reid added: "It is great to see so many applications from such a diverse background all over the world. We're really looking forward to meeting those selected for the shoot-out in Austria and putting them through their paces."
Academy shortlist:
Kevin Abbring, 21, Netherlands - class winner in WRC and IRC
Hamad Ahmed Al Fardan, 23, Bahrain - former Formula BMW Asia driver
Paul-Loup Chatin, 19, France - Formula 4 Eurocup 1.6 race-winner
Albert Costa, 20, Spain - Formula Renault 3.5 driver
Alon Day, 19, Israel - German Formula 3 driver
Philipp Eng, 20, Austria - Formula 2 race-winner
Robin Frijns, 19, Netherlands - Formula BMW Europe champion
Adam Gould, 23, UK - British Rally Championship frontrunner
Timmy Hansen, 18, Sweden - Formula BMW Europe frontrunner
Egon Kaur, 23, Estonia - Estonian rally driver
Andreas Mikkelsen, 21, Norway - IRC frontrunner
Josef Newgarden, 20, USA - GP3 driver
Norman Nato, 18, France - F4 Eurocup 1.6 frontrunner
Alexander Rossi, 19, USA - GP3 frontrunner
Jan Skala, 19,Czech Republic - Formula Renault driver
Richie Stanaway, 19, New Zealand - Formel Masters champion
Molly Taylor, 22, Australia - British Rally Championship driver
Stoffel Vandoorne, 18, Belgium - F4 Eurocup 1.6 champion
Joni Wiman, 17, Finland - Formula Masters driver