Drivers would back Cup points change
| | |
| --- | --- |
| By Diego Mejia | Friday, January 21st 2011, 08:39 GMT |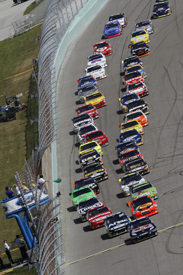 A number of Sprint Cup drivers have shown their support for a new points system that NASCAR could potentially implement this year in an attempt to make the scoring easier for fans to understand.
According to a recent report from the Associated Press, NASCAR is considering a complete overhaul of the points allocation that has been in place since 1975, and could replace it with a system that would award 43 points to the first finisher down to one for the 43rd placed driver, with a one-point decrease between each position. Possible changes to the Chase are also on the cards, as well as the allocation of bonus points.
The current points system awards 185 points to a race winner, with five-point decreases down to sixth place, four-point decreases from sixth to 11th and then three from 11th down to 43rd place. Five bonus points are awarded for leading laps, another five for leading the most laps, and 10 towards a driver's seeding in the play-off for every win during the first 26 races, with the top 12 in the points becoming title contenders in the final 10 weeks of the season.
A NASCAR spokesman has confirmed changes being considered but denied that a final decision had been taken. An official announcement is expected to take place next week.
Five-time Cup champion Jimmie Johnson backed the possible change but said he would not expect it to hurt his chances of defending his title if implemented this year. However he believes that further changes need to be made in other areas like the length and number of races, in order to enhance declining viewership and attendance figures.
"There's a lot of speculation at this point, but in theory if it is 43 points for the winner on down to one for the last place car, in concept, in theory, it's still very similar to what we have now," said Johnson. "So I think the premise, the concept is still very similar. Take a while to get used to it.
"I think it's more of an attempt to make our points system easier to understand. I don't think that it would be a huge change from the thought that I've put into it so far. I don't see it being a big thing.
"I know people expect me to react and think, 'oh, they've got to leave it alone, don't change it.' I don't care what races are in the Chase, the format to win the championship; I could care less because I feel confident that my team will be able to win championships under any set of circumstances.
"Some more tweaks here and there, I'm willing to try it, but I think there are some other issues that would help with attendance and viewership that kind of leave the garage area and what happens on the track.
"You look at length of races, frequency of races. In my opinion I think a lot of our fans are just over-exposed from race lengths and then so many events."
2004 champion Kurt Busch, the first to win a Cup title under the Chase format, said the changes being considered are positive for the fans, although he would like to see more bonus points being awarded for winning a race.
"I thought it was good," said Busch. "I do think it's simpler for people to figure out. Obviously when you know you're 18 points behind someone, that's 18 spots without the bonus points and everything.
"From what I saw that [NASCAR] proposed, the one thing that they were open to is possibly giving a few more bonus points for the wins in the regular season to count towards the Chase, and I think because just maybe giving one point to someone who wins a race, putting that to your Chase points, that's only one spot, that's not equal to what we had before.
"I definitely think that they're open to that change, but I'm definitely in favour of the one to 43. I think it's going to be easier for us to figure out to be honest with you."
Last year's championship runner-up Denny Hamlin believes that the proposed alterations would not have changed the identity of the champion in recent seasons.
"I'd like to go back for myself and just do research and plug those numbers into past years and to see who comes out on top or to see how things change around and to help fine-tune it a little bit more, because in the end you still want it to be about consistency, but you have to be consistent during those 10 weeks," said Hamlin.
"When you sit there and change around points 100 different ways, we still end up with the same champion nine times out of 10 it seems like."
Double champion Tony Stewart also seemed supportive of any possible changes.
"As long as we all start the year and we understand what the point structure is and how you get the points, then you race accordingly," said Stewart.
"But it's still going to be on a situation where if you win races the points take care of itself, and as long as it's not a deal where you ever get in a situation where running 30th pays more points than winning then it shouldn't really change how you race, it's just you know if it's a 36-week deal that leads into a championship or a 10-week deal, you know how to prepare for it."
Next week NASCAR chairman and CEO Brian France is expected to unveil any final changes to the championship format.