Bouffier takes lead amid snow chaos
| | |
| --- | --- |
| By Matt Beer | Thursday, January 20th 2011, 15:49 GMT |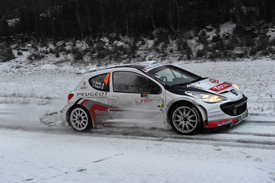 Bryan Bouffier surged from seventh place to lead the Monte Carlo Rally in a single stage as heavy snowfall turned the leaderboard inside out on SS7.
Erstwhile leader Juho Hanninen is down to fourth, 16.9 seconds behind Bouffier, and with Stephane Sarrazin and Freddy Loix between them. Petter Solberg has fallen from second to seventh place.
Bouffier both chose to take snow tyres for the stage, with Francois Delecour going further still and opting for fully-studded rubber - which looked the wrong choice during the utterly dry early miles.
But with the later part of the stage covered in snow, the two French Peugeot drivers flew to the first and second-fastest times, and moved up to first and sixth overall in the process.
Both Hanninen and Solberg chose intermediate tyres and found themselves totally without grip.
"We had intermediate tyres so it was very difficult to even get here," said Hanninen. "Not good, but this is rallying and part of Monte Carlo. We just need to focus to get to the end of this stage. It's more than difficult."
Solberg said: "With a slick intermediate it's not good, and I also had a puncture because I went off the road a little bit. That's how it is. We tried and [the snow] came much more than I expected."
Bouffier holds a 3.8s lead over Sarrazin, who admitted he was too cautious on the stage, with Loix just 1.2s further back in fourth. Guy Wilks ran winter tyres without studs too and is 8.4s behind Hanninen in fifth.
Skoda's Jan Kopecky also struggled on intermediate tyres, and could not understand how the team had misjudged the conditions so badly after falling to eighth behind Delecour and Solberg.
"If you see this weather and see our tyres, something is wrong. This should not happen," he said.
Today's final stage is now underway and is covered in snow throughout. Many of the drivers on the wrong tyres for SS7 have two studded or winter tyres in their cars' boots as alternatives.
Pos  Driver             Car        Time/Gap
 1.  Bryan Bouffier     Peugeot  1h52m54.3s
 2.  Stephane Sarrazin  Peugeot      + 3.8s
 3.  Freddy Loix        Skoda        + 5.0s
 4.  Juho Hanninen      Skoda       + 16.9s
 5.  Guy Wilks          Peugeot     + 25.3s
 6.  Francois Delecour  Peugeot     + 55.8s
 7.  Petter Solberg     Peugeot   + 1m03.6s
 8.  Jan Kopecky        Skoda     + 1m14.7s
 9.  Nicolas Vouilloz   Skoda     + 4m22.7s
10.  Julien Maurin      Ford      + 4m45.1s