Whitmarsh predicts even closer battle
| | |
| --- | --- |
| By Jonathan Noble | Friday, January 14th 2011, 15:25 GMT |
McLaren boss Martin Whitmarsh believes that 2011 could deliver an even closer battle for the world championship than last year - when four drivers went to the final race of the season fighting it out for the world title.
With teams due to begin testing their new cars in the next fortnight, Whitmarsh says that there is every reason to believe that things could be even tougher at the front of the field when the season kicks off in Bahrain.
"Yeah, maybe more," he said when asked on stage at the AUTOSPORT International Show about the prospect of as close a battle as last year.
"I think it [2010] was an absolutely fantastic world championship and very exciting. You have to say it was good for the sport - not just us. Red Bull won, but we had some great 1-2s, great victories and great drivers.
"Ferrari will be strong this year, we intend to be strong and I am sure Mercedes will come back stronger this year than they were last season.
"But you never know. We are working hard to be very, very competitive - and we think we are doing a good job. But there may be a Eureka spot in the small teams that we have all missed.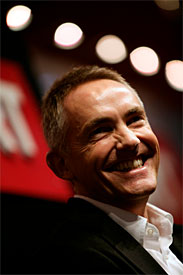 "During the season, every fortnight you see how competitive everyone is - but during the winter you are off the radar screen. There is always that fear and anticipation that someone, and it could be a small team, finds a breakthrough that no-one else does."
McLaren is hoping that innovations it has found with its new MP4-26 will be kept under wraps for as long as possible - with the team electing to launch its new car after the first test.
Whitmarsh said that the plan to delay its unveiling until February 4 was planned several weeks ago - and has not come about because the outfit is late with its car.
"It is on schedule - and the schedule is to launch on February 4 and make it to second test," he said. "We took that decision some time ago, and it hasn't slipped from that.
"It is a balance. Nowadays, with the short winters, you are trying to develop cars to complex technical regulations. We wanted to give the aerodynamic guys and developers an extra 10 days. It doesn't sound much, but a lot of performance can come in that time.
"It is tough. This year the regulations are even more restrained - but the goal is to get back to the same performance as the end of the year - when we had double diffusers and F-ducts. We don't have those any more and everyone is working hard to do that."