Mikkelsen wants mistake-free start
| | |
| --- | --- |
| By Steven English and Matt Beer | Thursday, January 13th 2011, 12:27 GMT |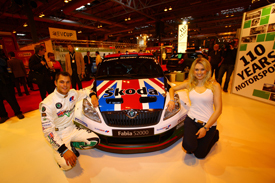 Skoda UK's new signing Andreas Mikkelsen expects to be very competitive on his debut with the team in Monte Carlo next week - but warned that he cannot take as many risks as the one-off entrants will.
Since becoming part of the Intercontentinal Rally Challenge in 2009, the Monte Carlo Rally has always been won by a guest entrant, with World Rally Championship stars Sebastien Ogier and Mikko Hirvonen taking the victories so far.
This year's rally has attracted the likes of 2003 WRC champion Petter Solberg and his WRC regular brother Henning, while reigning IRC champion Juho Hanninen has entered the Monte but is not mounting a full-season title defence.
Mikkelsen said that the guest drivers will be able to throw caution to the wind in a way that IRC title aspirants such as himself, Guy Wilks and Jan Kopecky cannot.
"There are some good names entering the event - many drivers are doing this event as a one-off," Mikkelsen said on stage at AUTOSPORT International, where Skoda UK unveiled its 2011 livery.
"Some drivers need to think about the whole championship so really need to finish the event and bring some points on the table for the rest of the year. Many guys go there just to win and the IRC regulars go there for a strong finish and not to take too much of a risk.
"If I have a good rally with no mistakes I think I can be quite high-placed."
He is confident that Skoda UK - which took several podium finishes but no wins with former driver Wilks last year - can take a step forward this season.
"I've been driving the car a lot lately and I think we have a really, really strong package now," Mikkelsen said.
"Altogether it's a great team, a great car, everything is looking very good so hopefully we'll have a great year.
"I think we now have an even stronger package this year with the cars also upgraded. Hopefully we can continue where Guy left off and have some really good results, I think so."