McLaren: Late launch is right decision
| | |
| --- | --- |
| By Jonathan Noble | Thursday, January 13th 2011, 11:09 GMT |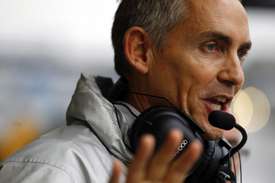 McLaren insists that its decision to not take its new car to the first test of the season gives it the best chance possible to win the world championship this year.
As AUTOSPORT exclusively revealed last week, the Woking-based outfit will be the only frontrunner that will not take its definite 2011 machine to the first test in Valencia.
Instead, the team will take an interim version of last year's MP4-25 - fitted with updated 2011 parts - for that first run before the launch of the new car in Berlin on February 4.
McLaren team principal Martin Whitmarsh says that the decision to skip the first test with the new car is not because his outfit's plans are late – but instead is tactical.
"The MP4-26 is on schedule and will be launched on February 4, after which it will go through the normal testing processes," Whitmarsh told the official Formula 1 website.
"We feel that timetable is optimal with regard to providing Jenson Button and Lewis Hamilton with the best possible package for the first race in Bahrain."
One of the benefits of missing the first test will be that rival teams will not have a chance to see close up McLaren's interpretations of the new F1 regulations until the second test in Jerez – which will give them less chance to copy any unique concepts that may feature on the car.
And a year after bringing the F-duct into F1, Whitmarsh has hinted about further innovation on its MP4-26.
"There are new regulations for 2011 - and the MP4-26 will not only adhere to them but it will also sport a few fresh design features in response to the opportunities presented by those new regulations," said Whitmarsh. "So, yes, there will be some new elements, but as you can imagine I'm not prepared to add more detail at the moment."
He added: "Our mission is to win, and winning five grands prix and coming second in the constructors' championship doesn't constitute enough of a win for us. It goes without saying that this year we aim to do better.
"As ever, it's impossible to make firm predictions, but we think we're on course to be competitive. Having said that, we never underestimate our opposition and we're sure they're working every bit as hard as we are."