Edmonton back on IndyCar calendar
| | |
| --- | --- |
| By Steven English | Wednesday, January 12th 2011, 09:32 GMT |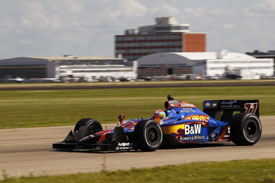 Edmonton has reclaimed its place on the 2011 IndyCar Series schedule, after being dropped in November due to a row over funding for changes to the track.
The Canadian airport circuit, which has been on the calendar since Champ Car visited in 2005, was removed when promoter Octane Management and the city of Edmonton had a dispute over payment for revisions to the circuit layout to allow the air field to remain operational during the race weekend.
But Octane has now announced that it has completed negotiations with the city and agreed to hold the event on July 22-24 this year.
A three-year deal has been agreed between Octane and INDYCAR to host the race on a new circuit designed around the airport's eastern runway.
"We are extremely glad to finally be able to officially invite racing fans to gather in Edmonton in July," said Octane president Francois Dumontier. "It is now a reality; the popular Edmonton Indy is back on the IndyCar Series calendar.
"While it may have taken more time than expected to confirm its return, our group has all intentions to use the next seven months to offer to Edmontonians and western Canadians the very best motorsports spectacle they've seen since 2005 in Alberta's capital city."
"I wish to take the opportunity to also thank everyone in Edmonton - Mr Mayor, city council members, city personnel and business community representatives - who contributed to today's extremely positive announcement. I also wish to thank Randy Bernard, Terry Angstadt and their whole team at INDYCAR for their patience and constant support over the last few months."
Canadian IndyCar racer Alex Tagliani is delighted to see the event back on the schedule: "It's great to have the Edmonton back because throughout the last couple of years we made a lot of friends and very loyal supporters.
"I'm Canadian and I want to race in front of my Canadian fans and sponsors. With all the work we're doing to bring lots of visibility for the series into Canada, it's very important to keep as many races as possible. The local Edmonton business community pushed really hard to keep that race and showed how important it was for the economic impact for their businesses and city.
"I think the fans are just as happy to see our series back in their city, especially with all the good news that has been coming out about the future of the series with additional manufacturers and new cars. Edmonton will be very happy to have kept this race with such a bright future for everyone."