Al-Attiyah closes in with stage win
| | |
| --- | --- |
| By Matt Beer | Sunday, January 9th 2011, 17:01 GMT |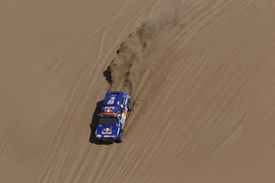 Nasser Al-Attiyah cut his Volkswagen team-mate Carlos Sainz's lead in half by winning stage seven of the Dakar Rally, while VW's main rival Stephane Peterhansel lost further ground.
The gap between Sainz and Al-Attiyah in the outright standings is now down to 1m22s after the latter won today's Arica to Antofagasta stage by 1m20s. The stage was reduced to 252 kilometres of competitive running to give the field a slightly easier start to the second week of the gruelling event.
Peterhansel had been getting closer to Sainz until a series of punctures on Friday, and today started with further tyre trouble for the X-Raid BMW driver. He drove more cautiously thereafter, and ended up losing seven minutes to the leaders, leaving him 21 minutes behind in third overall.
That has increased VW's chances of a top three sweep, with Giniel de Villiers now within 11m34s of Peterhansel having taken five minutes out of the Dakar legend's advantage today.
Peterhansel's team-mate Krzysztof Holowczyc also had punctures today, but with the pursuing VW of Mark Miller losing time when time with both a puncture and struggling to find a way point after an excursion, Holowczyc remains fifth.
However fellow X-Raid man Orlando Terranova, who had been Argentina's top representative in seventh, is out after crashing heavily 200km into the stage. That made it two accident retirements in as many days for X-Raid, which lost its new Mini Countryman yesterday after Guerlain Chicherit had a multiple roll while doing some practice mileage during the rest day.
Stage seven results:

Pos  Driver                   Car         Time/Gap
 1.  Nasser Al-Attiyah        Volkswagen  2h40m57s
 2.  Carlos Sainz             Volkswagen   + 1m20s
 3.  Giniel de Villiers       Volkswagen   + 2m56s
 4.  Stephane Peterhansel     BMW          + 7m40s
 5.  Krzysztof Holowczyc      BMW         + 17m00s
 6.  Christian Lavieille      Nissan      + 20m07s
 7.  Ricardo Leal dos Santos  BMW         + 20m48s
 8.  Guilherme Spinelli       Mitsubishi  + 22m14s
 9.  Nani Roma                Nissan      + 24m39s
10.  Tonnie van Deijne        Mitsubishi  + 35m10s

Overall standings:

Pos  Driver                   Car           Time/Gap
 1.  Carlos Sainz             Volkswagen   23h21m58s
 2.  Nasser Al-Attiyah        Volkswagen     + 1m22s
 3.  Stephane Peterhansel     BMW           + 21m11s
 4.  Giniel de Villiers       Volkswagen    + 32m45s
 5.  Krzysztof Holowczyc      BMW         + 1h28m59s
 6.  Mark Miller              Volkswagen  + 2h13m44s
 7.  Guilherme Spinelli       Mitsubishi  + 2h38m50s
 8.  Christian Lavieille      Nissan      + 3h26m41s
 9.  Ricardo Leal dos Santos  BMW         + 3h30m40s
10.  Matthias Kahle           SMG         + 5h45m10s