Peterhansel closes in with victory
| | |
| --- | --- |
| By Steven English | Friday, January 7th 2011, 09:03 GMT |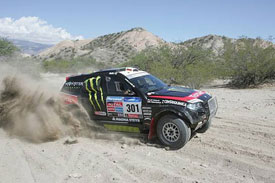 Stephane Peterhansel claimed his first stage victory of the 2011 Dakar Rally on Thursday, making huge inroads into Carlos Sainz's overall lead.
The BMW driver took advantage of navigational mistakes by the Volkswagens of Sainz and Nasser Al-Attiyah to lead alone over a long stretch of dunes of in the 459km fifth stage from Calama to Iquique in Chile.
His lead was almost four minutes at its peak, though Al-Attiyah managed to work back down to 1m24s by the leg's end with Peterhansel stopping to fix a puncture on the way.
"It was a stage with lots of surprises," Peterhansel said. "We started with the bit between our teeth. We managed to overtake Al-Attiyah and Sainz by taking advantage of a navigation error they made. After that, it was our turn to make a mistake and get a flat tyre.
"At the finish, we put in a good time - it could have been better, though. At one point, I had regained four minutes on Carlos. In the end, our performance was okay. The first three places in the general standings are separated by three minutes. That's good.
"I hope it stays like that until the rest day, that way we'll have a thrilling end to the race. Everything is still possible for us."
Sainz was more than three minutes behind Peterhansel in third, meaning his overall lead has been reduced to just two and a half minutes, with Peterhansel now seven seconds ahead of Al-Attiyah in second.
"This leg was extremely tough," said Sainz. "It was difficult in terms of navigation, physically strenuous and rough on the material too. At the beginning of the special stage the roadbook wasn't accurate enough at one particular location. Being the first car out we got lost there and Stephane Peterhansel overtook us.
"In the last dune belt we lost some more time because we caught a motorcycle rider on a dune crest and reduced our speed a bit too much. Unfortunately, we got stuck there. But, on the whole, it was a good day for us."
Giniel de Villiers finished the stage in fourth, maintaining that spot in the overall classification. Fellow Volkswagen driver Mark Miller continued his recovery in the standings with fifth place today lifting him three spots to seventh overall.
Mini driver Guerlain Chicherit fell out of the top 10 when he got stuck in a rut 137km into the stage. BMW driver Krzysztof Holowczyc was one of those to stop and help, but by the time Chicherit freed his car he'd lost 30 minutes.
"Guerlain Chicherit went off the track so we just tried to help him," said Holowczyc, who suffered his own misfortune later in the stage. "We tried to pull him out but his car is really heavy and now our rope is broken, so we left.
"In the last 30km we missed the route and tried to find our way. We got stuck for a minimum of 10 minutes, which meant we lost everything at the end of the stage."
Russian Leonid Novitskiy went into today's fifth stage in seventh place overall, but was forced to retire after breaking his wrist during the stage. His BMW hit a rock and the shock transferred through the steering wheel broke his wrist.
His co-driver Andreas Schulz had to complete the leg behind the wheel and the pair retired in Iquique.

Stage five results:

Pos Driver                   Car            Time/Gap
 1. Stephane Peterhansel     BMW           +4h33m19s
 2. Nasser Al-Attiyah        Volkswagen       +1m24s
 3. Carlos Sainz             Volkswagen       +3m15s
 4. Giniel de Villiers       Volkswagen       +5m21s
 5. Mark Miller              Volkswagen      +20m42s
 6. Krzysztof Holowczyc      BMW             +23m23s
 7. Orlando Terranova        BMW             +29m03s
 8. Guilherme Spinelli       Mitsubishi      +37m04s
 9. Nani Roma                Nissan          +39m22s
10. Guerlain Chicherit       Mini            +52m53s


Overall standings:

Pos Driver                   Car            Time/Gap
 1. Carlos Sainz             Volkswagen    15h45m48s
 2. Stephane Peterhansel     BMW              +2m26s 
 3. Nasser Al-Attiyah        Volkswagen       +2m33s
 4. Giniel de Villiers       Volkswagen      +21m20s
 5. Krzysztof Holowczyc      BMW             +47m53s
 6. Orlando Terranova        BMW             +58m59s
 7. Mark Miller              Volkswagen    +1h26m03s
 8. Guilherme Spinelli       Mitsubishi    +1h33m34s
 9. Nani Roma                Nissan        +1h44m39s
10. Christian Lavieille      Nissan        +2h14m24s