Paffett predicts Audi fightback in '11
| | |
| --- | --- |
| By Glenn Freeman | Sunday, December 26th 2010, 11:36 GMT |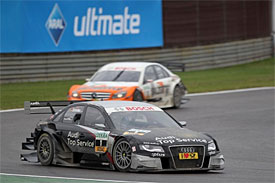 Former DTM champion Gary Paffett expects Audi to strike back in 2011 after Mercedes dominated the series this year.
Audi only scored two victories compared to the nine of Mercedes this year, as the Ingolstadt manufacturer struggled to get a handle on the new tyre compound introduced by Dunlop.
Paffett was part of a three-way Mercedes title scrap with Paul di Resta and Bruno Spengler this year, but the Briton does not expect his HWA team to have such an easy time of things next year.
"This year was a different fight to what we are used to, and a different fight to what we're going to have next year," Paffett told AUTOSPORT. "Audi will be back up there again."
Hankook is set to replace Dunlop as the DTM control tyre supplier for next year, and Paffett believes that will put all the teams back to square one.
"Next year it will be a level playing field again," he said. "The tyres are changing again so we need to get a handle on them as quick as we can.
"We don't know exactly what the tyres will be like yet, but it will be interesting to see what we get. It's going to be another interesting year, and I'm sure the cars [from Mercedes and Audi] are going to be close."