Hamlin vows to improve for 2011
| | |
| --- | --- |
| By Diego Mejia | Friday, December 24th 2010, 06:14 GMT |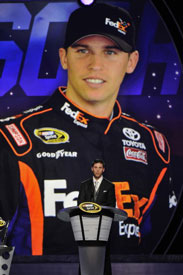 NASCAR Sprint Cup runner-up Denny Hamlin believes the 2010 season brought massive improvement to his team, but believes there's plenty of areas where he still has to maximise his potential as he looks forward to challenging for the title again next year.
Hamlin led the championship entering the final race of the season, but an early incident with Roush Fenway's Greg Biffle proved pivotal to his title hopes. Despite recovering later in the race, he was unable to prevent Jimmie Johnson from claiming a fifth consecutive series title.
Leaving aside the disappointment of losing a possible first NASCAR title, the Joe Gibbs Racing driver believes his team made huge strides during the 2010 season.
"I got better as a driver, but we got better overall as a team," said Hamlin. "For me, all I can ask is to show up at a race track any given day and feel like I can win a race, and this year I did that at every track I went to. The flip side of it is to have a championship slip away so close."
The 30-year-old believes his ability and speed to be on a par with Johnson, and reckons that mainly circumstances played into the final outcome of the title battle. At Phoenix, the penultimate race of the season, he seemed on course to his ninth with of the season before fuel strategy became a factor and hampered his chances of arriving at the season finale with a safer points cushion to Johnson.
"I don't feel like we got out-driven," Hamlin said. "I don't feel like Jimmie was just a better driver and that's how he won the championship. The strategy kept us from winning the championship. I did the best that I could, and that's all I could do.
"Phoenix is his best race track and we dominated it until we had to pit. For me, we did a really great job of stepping up to the plate. It's just, unfortunately, our ball hooked foul instead of going fair for a home run in the end."
Hamlin says qualifying and short runs are two areas he has improve looking ahead to 2011, while he also sees plenty of room for improvement within his team on the technical side. As he looks back on his season he says his group can feel proud of what they achieved in their fifth full season together.
"There are several parts of our car and parts of our team that we can improve on, and that's a good thing because of how competitive we are right now," said Hamlin. "I know I need to get better in qualifying. I said that last year at this time. There's lots of things that I could do to be better and there's lots of things we can do as a team to be better. So my focus is what I need to do to execute all of those things.
"I've got to work on my outright speed on the short gos, on restarts," Hamlin said. "Those are the things that I've got to get better at and as a team I'll debrief with them and tell them the things that I feel like our cars need to be better at in the future. I can assure you we're going to hang our heads high because we came close this year. We had a great year - it was just a little short at the end."
Next year Hamlin will return behind the wheel of the #11 JGR Toyota Camry joinning Kyle Busch and Joey Logano in the youngest team line-up in the NASCAR Cup field.