Rosberg confident of stronger 2011
| | |
| --- | --- |
| By Jonathan Noble and Adam Cooper | Tuesday, December 21st 2010, 10:52 GMT |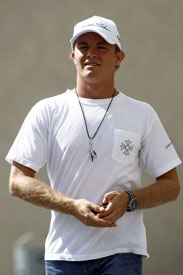 Nico Rosberg has full confidence that Mercedes GP has all it needs to deliver at the top in Formula 1 - as it seeks to bounce back from a disappointing 2010 campaign.
The Brackley-based outfit had gone into the season hoping to fight for world championship glory, but its car did not live up to expectations and the team's best results were podium finishes.
Although some of the form was explained by the lack of resources the team could put into its car, on the back of its efforts as Brawn GP to win the 2009 title, Rosberg thinks that organisational changes were the main area where improvements had to be made.
And that is why he is bullish that Mercedes GP can make the necessary tweaks to make good progress.
"We were just not the best team in the way that the factory is set-up and everything," Rosberg said in an exclusive interview with AUTOSPORT.
"But I think we have the best people, starting off with Ross, so I have a lot of confidence that we'll get there. It's just that Ross's process hasn't finished yet, and he's learning along the way also, I think.
"He probably learned a lot last year - and especially this year – about where the weaknesses are in the organisation. So he's still in the process of making a lot of changes and getting the best out of every individual, getting the people to work together well, things like that.
"There's been a lot of change in the team. The last three years it's been a huge rollercoaster. It's just going to take some time to get it to work as everybody wants."
Despite his confidence that Mercedes GP can improve, Rosberg has drawn short of predicting how quick such a step forward can be made.
"Ross is making changes all the time, so yes, pieces are falling into place. But it's difficult for me to judge how quickly and how efficiently, because I'm not really inside. It's still in the recovery period.
"But it's been a great experience for me, and I look forward to the coming years also. Driving a Mercedes is brilliant. I believe in the people that work here, I believe in the Brackley people, and I see it as a long term thing."
* For the full interview with Nico Rosberg about his 2010 campaign, and working alongside Michael Schumacher, click here.