Webber: No more friction with Vettel
| | |
| --- | --- |
| By Jonathan Noble and Pablo Elizalde | Thursday, December 16th 2010, 12:27 GMT |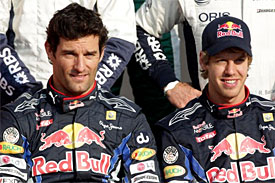 Mark Webber is adamant there will be no friction whatsoever between him and team-mate Sebastian Vettel going into next season.
The duo endured difficult times during the 2010 season, especially following their crash at the Turkish Grand Prix, where they blamed each other.
Webber, however, says his relationship with Vettel is now good and reckons there will be no issues between the two when the 2011 season starts.
"Probably not," Webber told the BBC when asked if the relationship with Vettel was as bad as people made it look.
"I think it is inevitable when you have two team-mates pushing each other as hard as we were, and also people have to understand that it only happens once every 10 to 15 years where you have two drivers in one team going for a championship because quite often you have rivals going for a title, but to have them in the same team and under the same roof is unusual.
"It also happened to be the first time that Red Bull has been through it, so all of us learned a huge amount. There were some growing pains, of course, and being two competitive individuals as we are, both wanting the same thing, it is going to be strained at times.
"Our relationship is good now, at the end of the year it was good to have a chat about things now and push a few things away that happened, it is hard to talk closely to each other during the season in the heat of the battle and over the winter we will have more time to build for the season and do a better job without any friction."
Webber, who went on to finish behind Vettel in the standings despite leading the championship for a significant part of the season, insists Red Bull will continue to treat its drivers equally in order to have a stronger championship.
"I've got number two on my car but Seb scored 51 per cent of the team points and I scored 49 per cent, so it was a pretty tight battle," he said.
"If your performance is such that you are not consistently able to challenge at the front and fight for victory then inevitably your role will change, but if you are in with a shout that will not happen in terms of team orders, it has been equal in the past and will be equal in the future.
"We need to get the constructors' championship and to do that we need to put both feet forward, it is as hard to have a one car team as two car teams. The team knows putting energy into two cars is beneficial to everybody. I think that is the best way."
The Australian, winner of four races in 2010, says he is still determined to do better next year despite his strong campaign.
"The bar is high from his year. I need to improve if I can on that result, but [the goal is] more victories and win as many races as I can and turn up and compete hard and compete well.
"That is my goal and to make sure I leave no stone unturned. This year I didn't leave much change on the table. I tried my hardest and in my own opinion I could not have done much better in terms of my own effort so I need to do that again."