Hulkenberg eyeing Force India seat
| | |
| --- | --- |
| By Pablo Elizalde | Thursday, December 9th 2010, 12:22 GMT |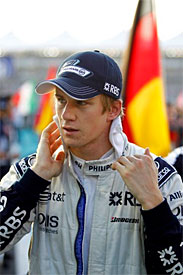 Nico Hulkenberg says Force India is his best chance to continue racing in Formula 1 next year after being dumped by the Williams team.
"Force India is our best shot, but it is also no secret that quite a few drivers are trying to land a seat there," Hulkenberg told the official Formula 1 website.
"We are talking to them and let's wait and see what develops."
When asked if he will be racing in F1 next year, he said: "Right now as we talk I am not sure. I hope, and we are working very hard, to get a deal done but it is no secret that there are not many good race seats left.
"The hope is still there and I am not giving up. I hope I can give you a positive answer very soon. Hopefully before Christmas."
The German rookie admitted he was surprised to have been dropped by the team after having secured a shock pole position at the Brazilian Grand Prix.
"Of course. This Brazilian pole position was something that Williams had not tasted in years, but then again, one lap does not change the course of history," he said.
"There had been signs before that there was something brewing, because the team repeatedly delayed contract talks, putting it off to 'maņana', so I was forewarned that something was going on. Nevertheless I would have liked to stay with them."
Hulkenberg will be replaced by GP2 champion Pastor Maldonado but the German suggested Williams must have needed the financial backing from the Venezuelan.
"From the outside it is obviously hard to understand, but there must have been circumstances within the team that required such a step," he said.