Hulkenberg 'sure' to be in F1 next year
| | |
| --- | --- |
| By Jonathan Noble | Monday, December 6th 2010, 15:10 GMT |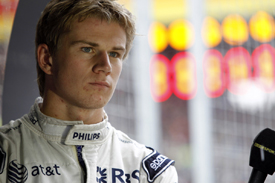 Nico Hulkenberg is 'sure' he will remain in Formula 1 next year, despite having not yet finalised any plans for 2011.
Although he delivered an impressive rookie campaign for Williams, which included grabbing pole position for the Brazilian Grand Prix, the German was dropped by the team in favour of Pastor Maldonado.
Since then, Hulkenberg has been strongly linked with Force India as well as a testing role at Mercedes GP.
Although nothing is yet sorted, Hulkenberg is upbeat about his prospects - and says that he has no bitterness about the way Williams decided not to keep him.
"At this point I would like to thank the Williams team for three great years," Hulkenberg wrote on his website. "Although it is very, very sad that the cooperation will not continue, I am glad to have been part of the team.
"I'm still sure that I stay in F1 in 2011. Sure you read all of this in the media. I still do not have a new contract with another team, but that will hopefully change very soon. It looks [good]."
Reflecting on his debut campaign with Williams, Hulkenberg admitted that his lack of experience was a major handicap at the start of the year - but reckons things improved a lot from mid-season.
"I realised quickly through my team mate Rubens Barrichello how important it is to have experience in this sport," he said. "Rubens was the strongest team mate I ever had and I am very pleased with the year at his side. He helped me with my development.
"We are both very ambitious pilots and of course everyone wanted to beat the other every time. However, we have, I think, worked well together and taken the team forward.
"We exchanged our racing helmets in Abu Dhabi on Sunday. We both wrote something personal for each other on it. I hope Rubens will stay in Formula 1 for a long time and I wish him all the best."