Vettel says Red Bull can't relax now
| | |
| --- | --- |
| By Jonathan Noble | Monday, December 6th 2010, 12:23 GMT |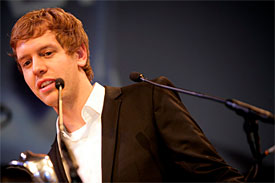 Sebastian Vettel has urged his Red Bull Racing team to seek out 'every single opportunity' it can to improve if it is going to be successful in defending its world titles in 2011.
The world champion, who rounded off his season by walking away with the prestigious AUTOSPORT International Racing Driver of the Year trophy at the AUTOSPORT Awards in London on Sunday night, is adamant that his outfit cannot rest on its laurels despite having had such a good car this year.
Although he is impressed with the unstinting belief Red Bull Racing showed in 2010, and thinks that winning the title will give the outfit greater confidence next season, he knows how quickly the competitive picture can change in F1.
"What matters, if you see what happened this year, was that we kept believing in it, which was most important," he told AUTOSPORT in an exclusive interview.
"We did not have a team that started the season full of champions, but we had a championship-winning team. Next year we have a team of champions, but what we need is a championship-winning team again. You need to have that goal and that target.
"The most important thing is not to stop working now, or thinking that can we do it like this year. We have to progress, we have to get better and we have to get stronger.
"We have to look for details and search for every single opportunity to be better than we were this year. Everyone else is trying to move forward and if you just stay where you are, then they will end up in front of you."
Vettel is still revelling in having become the youngest man to win the F1 world championship, but says that it will soon be the time to forget the good memories of this season and shift his focus onto retaining his title.
"So far it feels very nice to have won it, and it is something that no one can take away from you," he said. "If you ask Jenson [Button] about 2009, he will tell you and remember exactly what happened, and he will enjoy talking about it.
"But as a sportsman you look forwards, and very soon we will look forward to the new season. We are about to build next year's car and, once I have had time to settle down a little bit and calm down from all the action of the last few weeks, then very soon I will find my way back to the rhythm and look forward to next year.
"There will be next year's tests, the preparation and then very soon the start of the next season. We have 20 races next season coming, and it will be a tough season because everyone will try to hunt us down and will be after us.
"But that is the position we want to be in and we have to deal with it. We are very proud to have the number one on the car next year, and we will try again."
Vettel also said that he was immensely proud to have been voted the International Racing Driver of the Year by AUTOSPORT's readers.
"It is my first time at the AUTOSPORT Awards, and I came for the trophy," he said. "It is very, very special. I was hoping to get it and I have pictures in my mind of guys like [Ayrton] Senna picking up this piece. So it is very, very nice - and it is a big honour."