Pioneering Award: McLaren F-duct
| | |
| --- | --- |
| By Matt Beer and Jamie O'Leary | Sunday, December 5th 2010, 22:25 GMT |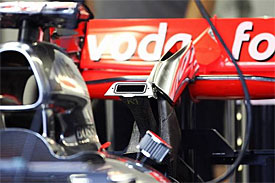 McLaren's F-duct has won the Pioneering and Innovation Award at tonight's AUTOSPORT Awards.
The ingenious device, operated by the drivers covering a slot inside the cockpit, temporarily 'stalled' the airflow over the McLaren's rear wing, giving a straightline speed boost, before the downforce was restored for corners.
McLaren's rivals were soon hurrying to copy the F-duct, but the Woking squad had taken a handy early advantage with the system, which was one of the most distinctive Formula 1 design innovations of recent years.
"Innovation is about getting a crackpot idea from an aerodynamicist and making it work," said Tim Goss, chief engineer on this year's MP4-25, as he and chief aerodynamicist Doug McKiernan collected the award.
Goss also reminded the audience that the team had actually named the device "F-flap", and joked that drivers Lewis Hamilton and Jenson Button had not been impressed by the additional workload it presented.
"Lewis and Jenson have been complaining that their shoulders have been hurting from having to do extra work in the cockpit," he said.