Kobayashi is 'inspirational' - Sauber
| | |
| --- | --- |
| By Matt Beer | Wednesday, December 1st 2010, 10:54 GMT |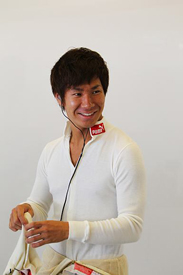 Peter Sauber says Kamui Kobayashi has brought a 'refreshing' spirit to his team, and believes there is much more to come from the Japanese driver.
Former Toyota protege Kobayashi has already become a fan favourite for his hard-charging driving style and bold overtaking moves. He scored 32 of Sauber's 44 points this season.
The Swiss team boss said that while he also appreciated Kobayashi's spectacular antics, he felt there was a lot more to the 24-year-old than his overtaking ability.
"Kamui inspires us all within the team," said Sauber. "His refreshing, attacking style really puts a smile on your face.
"You can tell from reactions in the stands that the Formula 1 fans love him too; his overtaking moves are always great to watch.
"However, it would be doing him an injustice to only focus on this aspect of his driving. Kamui is also a very clever driver and understands how to put a pre-defined strategy into action.
"He's progressed wonderfully well this year and I'm certain that there's more to come from him in the future.
"When I signed him a year ago, I had to put up with critical comments from some experts. But my gut feeling told me that Kamui was something special. And today I'm just delighted to have him in the team."
This year Kobayashi was paired with the highly experienced Pedro de la Rosa and Nick Heidfeld, but Sauber said the Japanese driver will have to take on a team leadership role alongside rookie team-mate Sergio Perez in 2011.
"Sergio is brimming with talent," said Sauber. "For him, it's a question of learning quickly. Here, he can pick things up from Kamui in the same way that Kamui did from Pedro and Nick.
"There's no number one driver in our team; the drivers will be given equal treatment in every respect. But, of course, I'm expecting Kamui to bring his extra experience into play."