Montezemolo fears wing rule disputes
| | |
| --- | --- |
| By Matt Beer | Sunday, November 28th 2010, 21:46 GMT |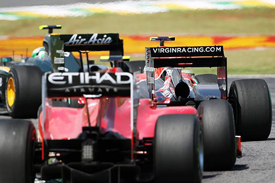 Ferrari president Luca di Montezemolo says he is anxious that the new-for-2011 adjustable rear wing does not prove to be a repeat of 2009's double diffuser controversy, and hopes the rules are 'totally clear'.
The Italian outfit was enraged last year when the FIA ruled that the double diffusers created by Brawn, Williams and Toyota were within the regulations, despite the three teams' rivals believing that their interpretation of the rear-end aerodynamic rules was illegal.
Next season the F-duct will be outlawed and instead all cars will feature a rear wing flap that can only be used when the driver remains a certain distance behind the car he is chasing. When activated, the flap will replicate the F-duct's effect of reducing drag, in theory making overtaking much easier as the driver ahead cannot deploy the wing in defence.
But di Montezemolo fears that this system has the potential for differing interpretations and consequent rows.
"As for the rear wing, I hope we start the season with total clarity as regards the regulations," he said.
"I am not worried about it, but our experience of 2009 still grates."
The 2011 rule changes also see the return of Kinetic Energy Recovery Systems (KERS) after a one-year absence.
Ferrari was one of the handful of teams that persisted with the power-boosting devices in '09. Although it had some early issues with the system and temporarily removed it, di Montezemolo felt Ferrari was fully on top of KERS by the end of the year and will therefore be in a strong position for the device's return.
"We are starting from a solid base," he said. "I'm thinking here of the fact that at the end of last year, our energy recovery system was very competitive."