Herck quickest on final GP2 test day
| | |
| --- | --- |
| By Matt Beer | Sunday, November 28th 2010, 14:28 GMT |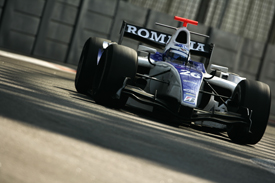 Michael Herck was quickest as his DPR team, the GP2/08 chassis and the Bridgestone tyres all bowed out on 2010's final day of GP2 testing in Abu Dhabi today.
Herck led both the Sunday sessions, setting the best time of the week's four days of running with a 1m47.138s in the afternoon. While DPR has lost its place in the field with the arrival of Carlin and Air Asia for 2011, Herck will stay on in GP2 with Coloni.
Wednesday and Saturday pacesetter Fabio Leimer was second-quickest on his fourth day with Rapax, despite his morning times being deleted due to the Swiss driver running underweight.
Fellow 2010 GP2 rookie Josef Kral was in the top three in both sessions as he tried out iSport's car, having run with Addax and Arden earlier in the week.
On only his second day in a GP2 car, Adrian Quaife-Hobbs was third for Coloni in the opening session, just ahead of Spanish Formula 3 graduate Kevin Ceccon in DPR's other Dallara.
GP3 champion Esteban Gutierrez completed the morning top five for ART, while former GP2 Asia driver Alexander Rossi got up to fourth for Racing Engineering in the afternoon, followed by Rodolfo Gonzalez (Trident) and Brendon Hartley (Ocean).
GP2's winter break now runs until 2 February, when testing of the new-for-2011 car begins in earnest at Yas Marina ready for the GP2 Asia campaign.
Morning session:

Pos  Driver               Team                Time        Gap
 1.  Michael Herck        DPR                 1m47.909s
 2.  Josef Kral           iSport              1m47.941s  + 0.032s
 3.  Adrian Quaife-Hobbs  Coloni              1m47.961s  + 0.052s
 4.  Kevin Ceccon         DPR                 1m48.169s  + 0.260s
 5.  Esteban Gutierrez    ART                 1m48.171s  + 0.262s
 6.  Marcus Ericsson      iSport              1m48.229s  + 0.320s
 7.  Brendon Hartley      Ocean               1m48.322s  + 0.413s
 8.  Alexander Rossi      Racing Engineering  1m48.340s  + 0.431s
 9.  Luiz Razia           Addax               1m48.549s  + 0.640s
10.  Rodolfo Gonzalez     Trident             1m48.603s  + 0.694s
11.  Sam Bird             Super Nova          1m48.622s  + 0.713s
12.  Roberto Merhi        Addax               1m48.643s  + 0.734s
13.  Adrian Zaugg         Trident             1m48.764s  + 0.855s
14.  Alexander Sims       Racing Engineering  1m48.793s  + 0.884s
15.  Karun Chandhok       Coloni              1m48.903s  + 0.994s
16.  Oliver Turvey        Arden               1m49.197s  + 1.288s
17.  Charles Pic          Rapax               1m49.205s  + 1.296s
18.  Rio Haryanto         Arden               1m49.397s  + 1.488s
19.  Jolyon Palmer        ART                 1m49.491s  + 1.582s
20.  Jan Charouz          DAMS                1m49.894s  + 1.985s
21.  James Jakes          Super Nova          1m50.027s  + 2.118s
22.  Pal Varhaug          DAMS                1m50.113s  + 2.204s
23.  Armaan Ebrahim       Ocean               1m50.247s  + 2.338s
24.  Fabio Leimer         Rapax

Afternoon session:

Pos  Driver               Team                Time        Gap
 1.  Michael Herck        DPR                 1m47.138s
 2.  Fabio Leimer         Rapax               1m47.158s  + 0.020s
 3.  Josef Kral           iSport              1m47.227s  + 0.089s
 4.  Alexander Rossi      Racing Engineering  1m47.280s  + 0.142s
 5.  Rodolfo Gonzalez     Trident             1m47.425s  + 0.287s
 6.  Brendon Hartley      Ocean               1m47.456s  + 0.318s
 7.  Luiz Razia           Addax               1m47.667s  + 0.529s
 8.  Alexander Sims       Racing Engineering  1m47.744s  + 0.606s
 9.  Roberto Merhi        Addax               1m47.779s  + 0.641s
10.  Charles Pic          Rapax               1m47.797s  + 0.659s
11.  Marcus Ericsson      iSport              1m47.820s  + 0.682s
12.  Oliver Turvey        Arden               1m47.884s  + 0.746s
13.  Kevin Ceccon         DPR                 1m47.888s  + 0.750s
14.  Adrian Quaife-Hobbs  Coloni              1m47.925s  + 0.787s
15.  Pal Varhaug          DAMS                1m48.156s  + 1.018s
16.  Sam Bird             Super Nova          1m48.239s  + 1.101s
17.  Adrian Zaugg         Trident             1m48.362s  + 1.224s
18.  Karun Chandhok       Coloni              1m48.535s  + 1.397s
19.  James Jakes          Super Nova          1m48.761s  + 1.623s
20.  Jolyon Palmer        ART                 1m48.998s  + 1.860s
21.  Jan Charouz          DAMS                1m49.430s  + 2.292s
22.  Armaan Ebrahim       Ocean               1m49.537s  + 2.399s
23.  Esteban Gutierrez    ART                 1m49.978s  + 2.840s