Bernoldi takes home GT1 pole
| | |
| --- | --- |
| | Saturday, November 27th 2010, 14:40 GMT |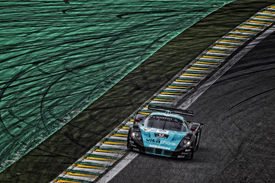 Enrique Bernoldi took his first pole in the GT1 World Championship in qualifying for his home round at Interlagos, but while Bernoldi and team-mate Xandi Negrao will start first in the #2 Vitaphone Maserati, the squad's championship-leading #1 car was only 19th.
Andrea Bertolini blamed a small mistake and the effects of success ballast for the lack of pace from the MC12 that he shares with Michael Bartels.
Bertolini and Bartels still have a comfortable 35-point cushion and can wrap up the title this weekend. Their nearest rival Thomas Mutsch qualified fifth with team-mate Richard Westbrook in the Matech Ford, but the duo will take a three-place penalty carried over from an incident at Navarra.
Nicky Pastorelli and Dominik Schwager missed out on pole by just 0.027 seconds in the All-Inkl/Munnich Lamborghini, while the Tomas Enge/Darren Turner Young Driver Aston Martin was also in the thick of the Q3 fight and starts third, alongside Marc Hennerici and Alex Margaritis' Phoenix/Carsport Corvette.
Leading Nissan drivers Peter Dumbreck and Michael Krumm (Sumo Power) will move up to fifth when the Matech Ford's penalty takes effect.
Local guest entrants Daniel Serra (Triple H Maserati) and Sergio Jimenez (Mad-Croc Corvette) had starred with first and second in Q1, but their respective gentleman driver partners Francisco Longo and Claudio Dahruj could only manage eighth-row spots when they took over for Q2.
Pos  Drivers                 Car           Time       Session
 1.  Bernoldi/Negrao         Maserati      1m32.060s  Q3
 2.  Schwager/Pastorelli     Lamborghini   1m32.087s  Q3
 3.  Enge/Turner             Aston Martin  1m32.169s  Q3
 4.  Hennerici/Margaritis    Corvette      1m32.410s  Q3
 5.  Westbrook/Mutsch        Ford          1m32.468s  Q3
 6.  Dumbreck/Krumm          Nissan        1m32.500s  Q3
 7.  Zonta/Kechele           Lamborghini   1m32.516s  Q3
 8.  Jani/Armindo            Ford          1m32.773s  Q3
 9.  Bobbi/Palttala          Ford          1m33.174s  Q2
10.  Piccione/Hirschi        Aston Martin  1m33.192s  Q2
11.  Martin/Leinders         Ford          1m33.488s  Q2
12.  Campbell-Walter/Hughes  Nissan        1m33.559s  Q2
13.  Wendlinger/Moser        Nissan        1m33.814s  Q2
14.  Makowiecki/Clairay      Aston Martin  1m34.120s  Q2
15.  Jimenez/Dahruj          Corvette      1m35.076s  Q2
16.  Serra/Longo             Maserati      1m35.948s  Q2
17.  Huisman/Kuismanen       Corvette      1m33.131s  Q1
18.  Kox/Haase               Lamborghini   1m33.320s  Q1
19.  Bertolini/Bartels       Maserati      1m33.331s  Q1
20.  Nygaard/Mucke           Aston Martin  1m33.386s  Q1
21.  Ara/Nilsson             Nissan        1m33.497s  Q1
22.  Bouchut/Basseng         Lamborghini   1m33.592s  Q1
23.  Heger/Muller            Maserati      1m33.857s  Q1