Shanghai track set for more tweaks
| | |
| --- | --- |
| | Saturday, November 27th 2010, 11:04 GMT |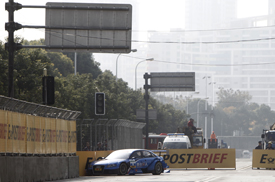 DTM organisers plan to carry out further work on the Shanghai street track overnight following the number of crashes in qualifying on Saturday.
All four segments of qualifying were red-flagged at some point due to crashes. Drivers complained in particular of how slippery the white lines on the track were, and the lack of grip due to the surface at Turns 1, 2 and 3.
Some work had already been carried out after Friday's running, but it is now expected that more work will take place before the race.
Mercedes-Benz motorsport boss Norbert Haug said: "I think we will have a close look, together with the [German motorsport authority] DMSB at what we can improve overnight.
"Some of the accidents were just typical of street tracks, but some things need to be looked at. Things were better today [compared to Friday], but maybe there is room for improvement for tomorrow."
Audi Sport boss Wolfgang Ullrich added that the DTM's senior figures understood the difficulties of getting the track up to scratch.
"We will all come together and see what we can improve," said Ullrich. "We know it's not easy to have a race in the city but we are all working to have a race here and to make it a success.
"It is a challenge here, it's not easy. I am sure that we will still manage to have a thrilling race tomorrow."
DTM champions Gary Paffett and Timo Scheider praised the work carried out so far by the organisers, but both added that they hope more can be done overnight.
"We knew that racing on a street track would be like this," said Scheider, who had a heavy crash at the final corner in qualifying. "They have done the best that they can with the track, but we need to see if we can do something more because hitting the wall at 220km/h is not nice."
Paffett added: "I nearly had the same crash as Timo yesterday. They worked on the white lines and it was better, but we need to see what else we can do tonight."