| | |
| --- | --- |
| Marc VDS tests Suter MotoGP bike | |
| | |
| --- | --- |
| By Matt Beer | Saturday, November 27th 2010, 06:10 GMT |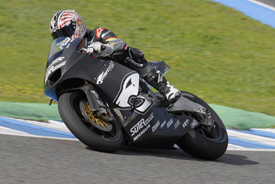 Leading Moto2 team Marc VDS has shaken down the Suter-BMW bike designed in preparation for MotoGP's 2012 rules.
MotoGP will allow production-based 1000cc engines from the '12 season as part of a package of changes intended to increase grid sizes, and top Moto2 constructor Suter and Marc VDS have been working on a BMW-powered machine with the new regulations in mind.
The bike was shaken down over two days of running at Jerez this week, with a planned third day prevented by rain. Australian rider Damian Cudlin, current champion of Germany's IDM Supersport series, shared testing duties with Spanish occasional Moto2 rider Carmelo Morales.
"Not many people get to ride a MotoGP bike, especially a prototype bike for 2012 like this one; it's pretty cool and it's been heaps of fun," said Cudlin.
"We've learnt a whole lot about the bike and, while there's still a lot more to learn, the potential is definitely there.
"The weight, or lack of it, is impressive and the handling has been pretty much spot on from the start of the test; it feels a bit like a more powerful Moto2 machine in a lot of ways.
"This week we've taken the first small steps on what will be a fairly long journey, I'm excited to be a part of it and I'm looking forward to seeing how the bike turns out at the end of the journey.
"I've got the easy job really, riding the bike, it's all the clever people around me who will be taking on responsibility for development, but they've certainly done an impressive job so far."
Team manager Michael Bartholemy was pleased with the outcome of the test.
"For a first roll-out of the new bike the test has been very successful," he said.
"The weather has been a problem, restricting us to just one day of dry testing, but we still managed to complete over 100 laps on the bike with no issues at all.
"The bike definitely has potential; we've seen that here in Jerez this week. Now we need to sit down with Eskil Suter and his technical team to agree a development plan that will unlock this potential, starting at the next test in January."