Raikkonen sells stake in F3 team
| | |
| --- | --- |
| By Ben Anderson | Thursday, November 25th 2010, 14:33 GMT |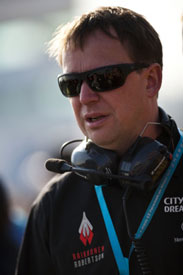 Raikkonen Roberston Racing will be officially renamed Double R Racing as team boss Anthony Hieatt takes over full ownership of the British Formula 3 squad.
Hieatt has completed negotiations to buy out co-owners Steve and David Robertson and 2007 Formula 1 world champion Kimi Raikkonen.
The Robertsons will now focus solely on driver management - the pair already look after Raikkonen's emerging World Rally Championship career and 2009 Formula BMW Europe champion Felipe Nasr, who finished fifth in British F3 for Raikkonen Robertson Racing this season.
Double R will continue to operate out of its Woking base with Hieatt at the helm, while subsidiary company Formula Merchants, which supplies Dallara chassis and Hewland gearbox parts to other teams, will also continue.

"Since we set up the team in 2005 we have enjoyed many highs, including winning the British F3 championship in 2006 and other races, including the most prestigious one in Macau," said Hieatt. "The Robertson family and Kimi have been very supportive throughout but it is time for all of us to take a different direction.
"I know the team goes forward with their blessing and this gives the Robertson's management company the flexibility to work with other teams and will allow us to be fully independent.
"It has always been my intention to fully take control of the team and we all felt the time was right. The new ownership will give the team a fresh independence and has already attracted fresh blood to our driving squad for 2011. Two drivers are already signed and their identities will be revealed soon."
Hieatt plans to run four Dallaras in British F3 next season and will continue to use HWA-Mercedes engines.
"Throughout the team's existence we have been a loyal supporter of the Mercedes F3 engine project," he added. "This relationship will continue following a very positive meeting between us in Macau. We have no doubt the battle between Mercedes and VW will be fierce in 2011."
The team is also looking at entering new categories of racing, such as GT3 with the new Mercedes SLS.
Double R has also recently entered a technical partnership with composites and machining company BRP, a leading supplier to the F1 industry. This will give it a new manufacturing capability within the British F3 paddock. A new simulator project is also underway.