Johnson says fifth title most special
| | |
| --- | --- |
| By Diego Mejia | Monday, November 22nd 2010, 10:27 GMT |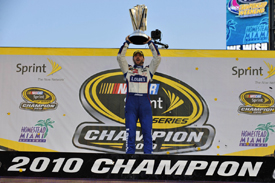 Jimmie Johnson said he regarded his fifth straight Sprint Cup Series title - achieved on Sunday at Homestead - as the most special following a three-way fight for NASCAR's top trophy.
The 35-year-old now sits behind only Richard Petty and Dale Earnhardt in the all-time NASCAR champions list, although his title successes have been achieved across consecutive years, something that seven-time champion Petty and Earnhardt did not manage.
Johnson's five titles have also been claimed in a shorter number of races than Petty and Earnhardt's. While the Hendrick driver had to compete in 327 races before winning a fifth crown, Earnhardt entered 390 events and Petty 654 to achieve the same number of titles.
The Californian also became the first driver in the short history of the Chase to overcome a points deficit in the final race, fighting back from a 15-point disadvantage to Joe Gibbs Racing's Denny Hamlin, with a second-place finish in the season finale to Hamlin's 14th spot.
"I've always told you guys that the first championship, first win, that stuff has meant the most to me," said Johnson. "This one, I think this takes the lead. Just [because of] the circumstances, it's not that the other Chases weren't competitive.
"We were stronger I think in the previous two Chases, at least. Maybe all four. But this one, I'm just so proud, because there were times on Saturday nights when we would get together and discuss our race car after practice, and we would have some tough conversations, and just struggled to get what we needed.
"Some races, like Kansas, we had a tough practice session, came out, had it right, went up and finished second or third. Martinsville, we thought we were going the right direction, started the race a little out of our norm with the set-up and didn't have the performance we wanted.
"So we have had the highs and lows of the Chase, but to have it all come around, and to look every single one of my crew guys in the eyes on that stage tonight there's a different feeling about it. It is so cool.
"I think we were very relieved for the first one, and it was super, super special. But this has a different feel. And even coming in, even through the race, the final races of the Chase, I've been saying all along, I've had a good time with this. This has been fun.
"I was, one, so happy to be a part of three guys racing for the championship, then obviously going for five in a row. I have really soaked in this experience and enjoyed it and just so happy to come out on top."
Johnson is already looking ahead to winning yet another title as he sets his sights on matching the sport's greatest. He believes Sunday's achievement only places him closer to achieving that goal.
"I would love to tie them," said Johnson. "I would love to surpass them. I don't know how realistic that is. I mean, I never thought that I would get to this point. So we'll enjoy five for the off season and come back and start working on six next year.
"We are a hell of a lot closer now than we were before the day started. I'm now looking at those marks that the greats have put out there and hopeful to get up there to them."
Many NASCAR pundits consider Johnson has yet to be given due credit for his achievements, instead being blamed by some as a factor for dropping television ratings and falling crowds in the grandstands due to the shadow that his dominance has cast over rivals for the past five seasons.
Johnson still believes he has gained the respect of many although he admits it may take some time for NASCAR fans to understand the extent of his accomplishments. He says though that he does not need everyone's approval to feel proud of what he has done in his career thus far.
"I feel like I have received a tonne of respect for what we have done," said Johnson. "I've watched our fan base grow leaps and bounds. People tell me they hate me, but they respect me, and that's always cool. A guy that had an 'I hate 48' T-shirt on when I was on the stage, but was giving me a thumbs up and said congratulations.
"In the moment, I think it's tough for fans to maybe look at what we have accomplished, because they want their guy to win and I understand that. But I know what they have done today is respected sports-wide, not just in our little bubble we live in, but sports-wide, and it's something I'm very proud of, and I feel great for what we have accomplished and I feel that we have been very well respected for what we have done.
"If this it takes it to the next level, then right on. But I don't need it to make me feel better about what we've done. I'm totally content based on our performance."
Johnson's fifth consecutive title with Hendrick Motorsports matches a benchmark set in motorsport by former Formula 1 world champion Michael Schumacher, who claimed five back-to-back titles between 2000 and '04 with Ferrari.