Courtney wins interrupted race two
| | |
| --- | --- |
| By David Wright | Sunday, November 21st 2010, 07:13 GMT |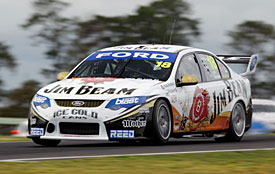 Jim Beam Racing's James Courtney boosted his championship chances with victory in an interrupted and shortened race two of the Norton 360 Challenge at Sandown.
Courtney looked set to lose a little ground to his championship rivals as he ran behind both of them in the first half of the race.
But a red flag just after half distance, after Michael Caruso made contact with Will Davison at the end of the back straight and sent them both heavily into the tyres in the sam place as Tander yesterday, changed the complexion of the race.
Pole man Paul Dumbrell stayed out for a lap when most of the field pitted, and dropped from a top-five result to just inside the top 20. Meanwhile, Courtney got ahead of Whincup and recovered the ground he had lost to Mark Winterbottom early in the race.
When the race resumed, Courtney was on the attack, taking the lead from Winterbottom with 16 laps remaining and taking the win. Winterbottom then had Whincup to worry about, but kept him at bay, with Holdswort giving Whincup a hard time, failing by just 0.0042 of a second to take the place at the finish.
Steven Johnson and Tim Slade were among the big winners from the red flag, taking fifth and sixth after being 15th or worse beforehand. Paul Dumbrell recovered from dropping to 18th to take seventh, with Rick Kelly, Jonathan Webb and Greg Murphy completing the top ten.
After using the soft tyres at the start of the race and opening a seven second lead, Russell Ingall was the biggest loser from the red flag, losing out to the cars behind who were now on soft tyres and charged straight past, Ingall eventually dropping to 13th by the chequered flag.
With just the final event at Homebush and 300 points remaining in two weeks' time, Courtney opened the margin back up a bit, 53 points ahead of Whincup, with Winterbottom still an outside chance 203 points back if both Whincup and Courtney strike trouble in one or both races.
Pos  Driver                Make                  Time
 1.  James Courtney        Ford Falcon FG        1h51m43.6234s
 2.  Mark Winterbottom     Ford Falcon FG        +     1.5543s
 3.  Jamie Whincup         Holden Commodore VE2  +     1.8574s
 4.  Lee Holdsworth        Holden Commodore VE2  +     1.8616s
 5.  Steven Johnson        Ford Falcon FG        +     8.8961s
 6.  Tim Slade             Ford Falcon FG        +     8.9333s
 7.  Paul Dumbrell         Ford Falcon FG        +    11.6387s
 8.  Rick Kelly            Holden Commodore VE2  +    12.9653s
 9.  Jonathon Webb         Ford Falcon FG        +    15.3507s
10.  Greg Murphy           Holden Commodore VE2  +    16.1227s
11.  Craig Lowndes         Holden Commodore VE2  +    20.6449s
12.  Fabian Coulthard      Holden Commodore VE   +    25.5798s
13.  Russell Ingall        Holden Commodore VE2  +    26.5637s
14.  Tony D'Alberto        Holden Commodore VE2  +    27.5928s
15.  Steven Richards       Ford Falcon FG        +    32.5498s
16.  Andrew Thompson       Holden Commodore VE   +    34.3127s
17.  Garth Tander          Holden Commodore VE2  +    35.8038s
18.  Dean Fiore            Ford Falcon FG        +    41.9568s
19.  Todd Kelly            Holden Commodore VE2  +    43.5908s
20.  Jason Bargwanna       Holden Commodore VE2  +    44.1410s
21.  Alex Davison          Ford Falcon FG        +    44.3350s
22.  Karl Reindler         Holden Commodore VE   +      1 laps
23.  Tony Ricciardello     Holden Commodore VE2  +      2 laps
24.  Jason Bright          Holden Commodore VE2  +      9 laps

Not classified/retirements:

     Driver                Make                  Laps
     Shane van Gisbergen   Ford Falcon FG         58 
     Andrew Jones          Holden Commodore VE2   37 
     Will Davison          Holden Commodore VE2   31 
     Michael Caruso        Holden Commodore VE2   31 
     Warren Luff           Holden Commodore VE2   19