Huff cruises to Macau victory
| | |
| --- | --- |
| By Jonathan Noble | Sunday, November 21st 2010, 04:44 GMT |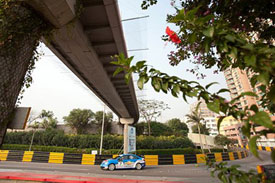 Rob Huff moved a step closer to finishing runner-up in the World Touring Car Championship with a dominant victory in the first race at Macau on Sunday.

The Chevrolet driver made a good getaway from pole position at the rolling start to keep the lead as the safety car was called out almost immediately following a multi-car collision involving Andy Priaulx, Andre Couto and Michel Nykjaer at the first corner.

It took track officials four laps to clear the wreckage and at the restart on lap five Huff maintained his advantage before steadily pulling clear of team-mate and champion Yvan Muller. The 1-2 also clinched the manufacturer's title for Chevrolet.

He was more than two seconds ahead before the safety car was called out on the penultimate lap after Henry Ho crashed in the mountain section and his car was left in a dangerous place on the track.

SEAT's Tiago Monteiro shadowed Muller all through the race but could do nothing to overhaul the Chevrolet driver, while behind there was a big battle for fourth place.

It was Gabriele Tarquini who came out on top of that battle, after overtaking the struggling Augusto Farfus on the run down to Mandarin on lap eight. Farfus then lost another place to Norbert Michelisz the following lap to eventually finish sixth.

Alain Menu recovered from an opening lap error at Lisboa, where he nudged the barrier, to finish seventh.

Tom Coronel lost his chance of a top 10 finish when he was handed a drive-through penalty for tapping the back of Darryl O'Young under braking for Lisboa at the first restart - pushing the independent title challenger into a spin before he ran, out of control, into Fredy Barth.

Pos Driver                 Car                   Time/Gap
 1. Rob Huff               Chevrolet   11 laps/35m34.840s
 2. Yvan Muller            Chevrolet               +0.366
 3. Tiago Monteiro         SEAT                    +0.631
 4. Gabriele Tarquini      SEAT                    +0.909
 5. Norbert Michelisz      SEAT                    +1.306
 6. Augusto Farfus         BMW                     +1.967
 7. Alain Menu             Chevrolet               +2.564
 8. Kristian Poulsen       BMW                     +2.823
 9. Franz Engstler         BMW                     +3.503
10. Mehdi Bennani          BMW                     +3.998
11. Sergio Hernandez       BMW                     +4.614
12. Tom Coronel            SEAT                    +4.770
13. Yukinori Taniguchi     Chevrolet               +8.465
14. Cesar Campanico        BMW                     +8.961
15. Andrei Romanov         BMW                     +9.439
16. NobuteruTaniguchi      BMW                    +13.059
17. Kevin Chen             BMW                    +24.421
18. Philip Ma              Honda                  +26.043
19. Jo Merszei             BMW                    +27.592
20. Masaki Kano            BMW                     +1 lap
21. Andy Priaulx           BMW                    +4 laps

Retirements:

    Henry Ho               BMW                     8 laps
    Darryl O'Young         Chevrolet               4 laps
    Fredy Barth            SEAT                    4 laps
    Colin Turkington       BMW                     4 laps
    Andre Couto            SEAT                    0 laps
    Michel Nykjaer         SEAT                    0 laps