Harvick: Team-mates could decide title
| | |
| --- | --- |
| By Diego Mejia | Sunday, November 21st 2010, 02:37 GMT |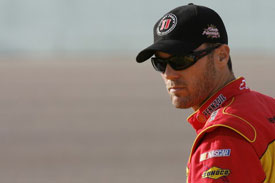 Kevin Harvick believes team-mates could play a decisive role in the NASCAR Cup title decider at Homestead on Sunday.
The Richard Childress Racing driver is 46 points behind Chase leader Denny Hamlin heading into the last race of the season, which means he has to count on his rivals' results in order to win his maiden Cup title.
Harvick believes his only real chance to beat the other two challengers is to take victory in Sunday's race and expect both Hamlin and Jimmie Johnson to make mistakes.
"I think the only way you can control your destiny is to go out and win the race," said Harvick. "Those guys have a lot of scenarios; our scenario is very simple - you go out and win the race and they [Johnson] have to have a fourth and a [Hamlin] seventh, and that's the best-case scenario. So, for us, it's simple.
"We don't have any pressure on us. We go and race as hard as we can. For us, it's going to come down to those guys making a mistake. We've got to out-run both of them, so for us it's all very simple - we just let it all hang out and see where it all falls in the end and see where the mistakes crop up this week."
The two-time Nationwide champion believes his RCR team-mates can do a lot to help his chances of winning the title on Sunday, even if a possible move may be controversial.
He says he will do whatever he needs in order to win, even if that leaves some people unhappy.
"There's a lot your team-mates can do to help you," said Harvick. "I think if it's winning a race, it's one thing. But for the company, a car winning the championship is the best thing that you could have. Half the fans will tell you it's not right, the other half will call you stupid. You do what's right for your organisation.
"We'll do whatever we have to do to win the championship. And if it winds up hurting somebody's feelings, so be it."
Harvick's RCR team-mate Clint Bowyer joked about possibly helping him if faced with that scenario: "If he wants to negotiate a deal, and he is running fourth and I need to let him around to win a championship, maybe we could talk."
NASCAR's Brian France said the sanctioning body may look at any particular situation where team orders come into play, although he expects the title battle to unfold between the three challengers themselves.
Last week during the pre-race driver's meeting at Phoenix, officials warned team-mates to let the battle play out on the track and not interfere with it.
"If [team orders] somehow altered an event, that would be a problem, and we would react to that," said France. "My sense is that the good part about this sport is, it's every man for himself at the end of the day, and the bad part of it sometimes is it's every man for himself.
"We'll look at that. I can tell you that all three teams in this championship don't give team orders by their own admission, and if that somehow were to come around, we would look at it. But I don't anticipate that. I think you're going to see them settle it individually, and that's the way it should be."
Harvick's team-mate Jeff Burton topped the final practice session of the weekend ahead of Sunday's race, where Hamlin was fastest of the title contenders.