Pirelli: We're right on target
| | |
| --- | --- |
| By Edd Straw | Saturday, November 20th 2010, 16:50 GMT |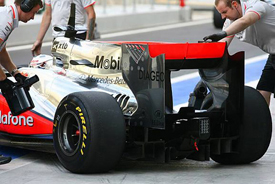 Pirelli motorsport director Paul Hembery has no doubts that the Italian tyre manufacturer will be ready for the start of next season after a successful first test of the 2011 development rubber.
The tyres have been tested extensively using a 2009 Toyota TF109, but the past two days of testing in Abu Dhabi have given Formula 1 teams their first opportunity to run them for themselves.
Although further changes will be made to the compounds, with modified rubber based on the data gathered at this test due to be run in a test in Bahrain next month, Hembery is delighted with Pirelli's progress.
When asked by AUTOSPORT if he was certain Pirelli would be ready for the 2011 opener, Hembery replied: "Absolutely. We haven't seen anything shocking, surprising or disastrous - in fact, we've only been encouraged by the results here and from that point of view we are on target."
Pirelli will now analyse the data gathered by the 12 teams over the two days of running at the Yas Marina circuit. Further compounds will be prepared for the Bahrain test, where test driver Pedro de la Rosa will run for four days with a view to finalising the four specifications that will be used during the 2011 season.
"I would say that we have very good indications for the compound choices," said Hembery. "After this test and the work we do in Bahrain next month we're going to have a pretty good idea of the theoretical choices that we should be taking to each circuit.
"But the actual practical results of those when you actually get on the tracks with different conditions and temperatures will give us the answer. But that's part of the experience and that will come with time. I don't think we're too far out."
Pirelli suffered no major problems during the test, although Red Bull driver Sebastian Vettel did suffer two blow-outs during the two days. The first "instant deflation" was attributed to a cut tyre, while the cause of today's is being investigated.
"It wasn't the same in the sense that yesterday there was a big cut but today we had a few signals," said Hembery. "We were doing a different type of work today. It's confidential work, so I can't go into too much detail, but it was nothing shocking.
Vettel himself was impressed with the Pirellis and believes that his team understands that car changes that must be made to better suit next year's rubber. He also expects the tyres to improve with further development ahead of next February's tests.
"I think overall there is still a lot to do, but for a start I think it's better than most people expected," he said. "All in all, I think it was a good two days.
"I would've loved to do more laps, but similar to yesterday I had a puncture just before lunch, which cost us some time. But nonetheless it was pretty straightforward.
"Now there's a lot to look into and a lot of things to analyse for next year."