Muller fastest in disrupted qualifying
| | |
| --- | --- |
| By Jonathan Noble | Friday, November 19th 2010, 09:57 GMT |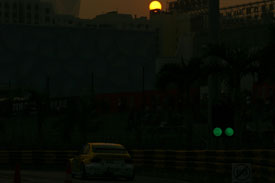 Yvan Muller was fastest in an incident-filled first qualifying session for the World Touring Car Championship finale at Macau on Friday, as fading light forced organisers to delay the shoot-out element until Saturday.
The 30-minute session was blighted by four red flags and, with the lack of light making it impossible to complete the shoot-out, race officials took the decision to delay that element until Saturday.

The top drivers had completed just one flying lap when the first red flag came out. SEAT driver Tom Coronel swiped the barrier at Fishermen's Bend - leaving debris scattered across the track.

The accident brought out the red flags and there was a lengthy delay while race officials made repairs to the barriers.

Following the restart, a second red flag was brought out when Masaki Kano spun his car into the middle of the circuit at Turn 1 - shortly after Andy Priaulx had hit the barriers at R Bend and parked his car at the exit of the pits.

When the session eventually began again, there was yet another red flag when Kristian Poulsen hit the barrier at Paiol - ripping a wheel off his BMW and leaving his car stranded in the middle of the track. Sergio Hernandez then arrived on the scene and hit the wall trying to avoid Poulsen and his debris.

With light fading fast, race officials managed to get the session going and there was time for just one flying lap - where Muller pipped Chevrolet team-mate Rob Huff for the top spot, with Tiago Monteiro setting the third best time.

Any opportunity for another flying lap was taken away when the fourth - and final - red flag came out after Coronel, whose car had been fixed following his earlier accident - hit the barrier again just before Police bend. By that stage, qualifying had been running for almost two hours.
Muller admitted he had never experienced a qualifying session like it.
"It was strange, but then qualifying at Macau is always bizarre," he said. "I don't think I have ever had such a long qualifying in my life."
Q1 times

Pos Driver              Car          Time      Gap   Laps
 1. Yvan Muller         Chevrolet    2m31.948           5
 2. Rob Huff            Chevrolet    2m32.323  +0.375   5
 3. Tiago Monteiro      SEAT         2m32.416  +0.468   7
 4. Alain Menu          Chevrolet    2m32.809  +0.861   5
 5. Norbert Michelisz   SEAT         2m33.013  +1.065   5
 6. Darryl O'Young      Chevrolet    2m33.197  +1.249   6
 7. Gabriele Tarquini   SEAT         2m33.274  +1.326   4
 8. Andy Priaulx        BMW          2m33.331  +1.383   5
 9. Augusto Farfus      BMW          2m33.610  +1.662   7
10. Andre Couto         SEAT         2m33.869  +1.921   6
11. Fredy Barth         SEAT         2m34.045  +2.097   7
12. Michel Nykjaer      SEAT         2m34.190  +2.242   8
13. Tom Coronel         SEAT         2m34.191  +2.243   6
14. Sergio Hernandez    BMW          2m34.689  +2.741   5
15. Colin Turkington    BMW          2m35.246  +3.298   6
16. Franz Engstler      BMW          2m37.094  +5.146   7
17. Mehdi Bennani       BMW          2m37.984  +6.036   6
18. Yukinori Taniguchi  Chevrolet    2m39.267  +7.319   6
19. Cesar Campanico     BMW          2m40.315  +8.367   6
20. Henry Ho            BMW          2m40.396  +8.448   6
21. Kevin Chen          BMW          2m40.840  +8.892   6
22. Nobuteru Taniguchi  BMW          2m40.897  +8.949   6
23. Kristian Poulsen    BMW          2m42.455  +10.507  5
24. Jo Merszei          BMW          2m45.002  +13.054  6
25. Masaki Kano         BMW          2m45.574  +13.626  4
26. Andrey Romanov      BMW          no time
27. Philip Ma           Honda        no time