Hamlin hopes title race down to speed
| | |
| --- | --- |
| By Diego Mejia | Thursday, November 18th 2010, 23:10 GMT |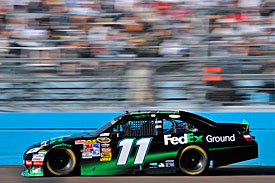 Denny Hamlin hopes Sunday's Sprint Cup series season-finale doesn't turn into a fuel-saving race to victory and the title, following last week's event at Phoenix.
The Joe Gibbs Racing driver currently leads the Chase by 15 points over reigning champion Jimmie Johnson, heading into the title showdown at Homestead this weekend.
Hamlin's margin to the Hendrick driver though could have been a lot healthier had his dominance transpired in the final results of last week's event at Phoenix, where he led nearly two thirds of the distance before fuel efficiency came into play and cost him a bundle of points.
Hamlin wound up finishing only 12th last week and lost out to Jimmie Johnson and Kevin Harvick, who both closed the gap on him in the driver standings as a consequence.
The 30-year-old hopes next Sunday's finale allows performance and speed to be the deciding factors rather than fuel economy tactics, as he cherishes his first real shot at NASCAR's top trophy.
"Realistically we'll probably have the worst fuel mileage of these other two guys [Jimmie Johnson and Kevin Harvick] but we'll have to take the speed," said Hamlin. "Hopefuly things work out for us and if they don't, we'll work on our whole program next year.
"I'm in a good situation because if we go out there and do what we've done all year and perform, then it's up to them to go out there and better us. We don't have to beat one of these guys by a certain ammount of positions. We have to just stay ahead and that's it. That's not going to be an easy fit, we know that, but we have the speed to do that."
Last year Hamlin took victory in the season-finale at Homestead, which means he has won nine out of the last 36 points races, a quarter of the events held over the past 12 months in the Sprint Cup series.
He believes his record at the mile-and-a-half track, shows he's got what it takes to defend his position in the standings and claim his first Sprint Cup title on Sunday.
Hamlin has three top-five finishes in five starts at Homestead, finishing down in 33rd place on his first race at the track, while two years ago he was only 13th at the finish-line as Carl Edwards won by saving enough fuel in the last stint, just as he did last week at Phoenix.
"I think for us, it's about going out and performing like we have every Homestead race I've ever ran," said Hamlin. "The two bad finishes I do have is my very first start at Homestead in 2005. I got caught up in someone else's wreck.
"The other was a fuel mileage race. Every other time we've been in the top three.
"I actually remember just about every year Kevin [Harvick] is right there with us at the end of the race. So I know he runs well there. So for me, just go out there and pretend that I got to win the race. That's all there is.
"I'm in a good spot knowing that I just have - I can control my own destiny and not have to worry about anything else. If we win the race, it's a moot point."
Hamlin may become the first driver to win a Sprint Cup title for a foreign manufacturer, as Toyota has still to win a championship at NASCAR's top level, having won already both in the Trucks and Nationwide series.