Teams shake down 2011 GP2 car
| | |
| --- | --- |
| By Matt Beer | Thursday, November 18th 2010, 17:28 GMT |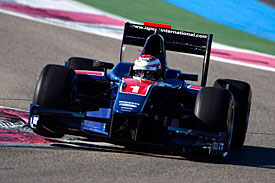 The 2011 GP2 teams tried the series' new car for the first time in a shakedown at Paul Ricard this morning.
The 12 squads completed 434 laps in total during three hours of running with the GP2/11, with each team having just one car to use at this stage.
A variety of experienced GP2 drivers were recalled to carry out the shakedown, with sometime Hispania Formula 1 driver Karun Chandhok returning to his former GP2 squad Ocean for the day, and Adam Carroll driving for iSport.
Current and more recent drivers in action included Javier Villa (Arden), Marcus Ericsson (Super Nova), Romain Grosjean (DAMS), Michael Herck (Coloni), Charles Pic (Addax), Stefano Coletti (Trident), Fabio Leimer (Rapax) and Dani Clos (Racing Engineering).
GP2 newcomers Carlin and Air Asia also made their debuts, running Max Chilton and Johnny Cecotto Jr respectively.
The only driver new to GP2 to run during the test was ART's 2011 signing Esteban Gutierrez, the reigning GP3 champion.
Although no times were released, the series said that Villa had set the quickest time of the session in the Arden car.
GP2 techical director Didier Perrin was delighted with the initial results.
"The objective of today was to make sure that all cars were all set to be shipped to the Middle East for the first official test session which will take place in Abu Dhabi next February," he said.
"The good surprise is that after one hour it felt like this was not a shakedown anymore but an almost normal and standard test session. Before lunchtime, teams were already starting to seek performance and engineers were looking at the screens to see who was going fastest.
"It is more than we expected for today. Everything went smoothly: last night, all engines had been fired up before midnight and this morning all cars took the track within the first hour of the day. We achieved a total of 434 laps. No technical issues have been found. It was amazing to see three cars fighting to be first on track this morning."