Q & A with Davide Valsecchi
| | |
| --- | --- |
| By Edd Straw | Thursday, November 18th 2010, 16:52 GMT |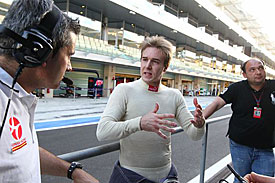 GP2 Asia champion and main series race-winner Davide Valsecchi got his first taste of an F1 car when he drove for the HRT team in the rookie test in Abu Dhabi this week.
The 23-year-old Italian impressed, outpacing both the Lotus and Virgin teams as well as fellow HRT runner Josef Kral. AUTOSPORT up with Valsecchi to find out what the test meant for him, and what's next in his future plans.
Q. Are you happy with your afternoon's work?
Davide Valsecchi: "Yes, it was incredible. I have to say thanks to HRT for giving me the chance to be here. I felt really good and also was competitive, so I was happy to be here."

Q. Were you happy with the laptimes at the end?
DV: "Maybe it was possible to do something better, but I was quite competitive. Considering how many laps I made, it was a good enough performance and the team was happy that I did a good job.
"I didn't have a great point of reference for my performance. We beat Lotus and Virgin and I had the comparison with my team-mate that drove in the morning and the day before Pastor Maldonado. But certainly I was confident to be fast here because I won in GP2 on Sunday. I immediately had the confidence to be fast and after my first run I already beat the time that my team-mate set.
"This car is a Dallara, so the chassis is the most similar to GP2 so this helped me a lot - even the position in the car. It meant that everything was familiar. But even so I was surprised to be so competitive in the first run. I had just two-and-a-half hours but it came easily."

Q. You had one spin?
DV: "It was incredible! On the third run, I was on target to beat the time of Maldonado from yesterday and I took a lot of confidence because on the screen I was three-tenths quicker in the first sector! So I was maybe a little bit too aggressive, I braked at the end of the long straight and locked the rears.
"Maybe the brake balance was not perfect because later I put it forward. But they locked and at maximum speed I just started to brake and spun! I kept the brake on and stopped two metres from the barrier, so I was lucky there. But to find the limit in such a small amount of time I had to take a risk. I was lucky that the escape roads were asphalt."

Q. What does this day mean for the future?
DV: "I don't know. I had one chance, and I used it really well. That is important. Maybe it will help a bit with the sponsors to try F1, but I don't have so many chances to get to F1. We will try to our best in GP2 if we have the chance to make it there. I won the last race and I really hope to be competitive through the whole season in Europe because I won GP2 Asia.
"If I had the confidence in GP2 Asia and in the final two races of the main series, then I can have it next season."

Q. Will you come back to GP2 with iSport?
DV: "I hope so, because for me iSport is the best team. We will see if we can get an agreement."