De Ferran plays down Kanaan test
| | |
| --- | --- |
| | Thursday, November 18th 2010, 10:12 GMT |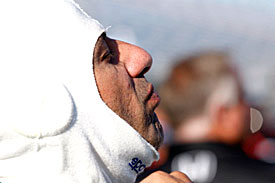 In-limbo IndyCar star Tony Kanaan got back in the cockpit this week with a day of testing for De Ferran Dragon Racing on Tuesday - but team boss Gil de Ferran played down the chance of it leading to a 2011 drive for the 2004 champion.
Kanaan is currently without a seat after being released from his multi-year Andretti Autosport contract following a sponsor withdrawal.
"It's difficult to speculate on that," de Ferran told this week's AUTOSPORT magazine when asked about the chances of him signing Kanaan.
"Tony is a free agent, a guy who's been at the top end of the grid for a long time, so he's an asset to any team.
"Given his experience, we were interested in his views on how we're developing our car so he kindly agreed to the test."
Kanaan, who was set to fly to Brazil after the test to continue chasing sponsorship, added: "I'm still looking for a job. I don't know what else to do but racing, so this was a great opportunity that Gil gave me.
"There's not a lot to read into - it's not like we have a deal. If I can help him, then who knows?
"Even if I don't end up racing for him, I helped a friend and I spent a day on the track."
For the full story of Kanaan's 2011 prospects - including his NASCAR Truck offer - read this week's AUTOSPORT magazine, available in digital form here.