Webber: Driver tension spurred team on
| | |
| --- | --- |
| By Matt Beer | Tuesday, November 16th 2010, 22:47 GMT |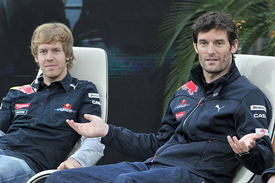 Mark Webber believes his sometimes bitter rivalry with team-mate Sebastian Vettel during the 2010 season played a key part in spurring their Red Bull Racing team to its title successes.
Webber and Vettel's first flashpoint came at the Turkish Grand Prix, where they collided while fighting for the lead, and the team received further criticism for appearing to back Vettel over Webber in the incident.
There was further tension when the latest front wing was taken from Webber's car to Vettel's at Silverstone following a failure for the German, while in Brazil Webber told the media that he felt the team was 'emotionally behind' its 'favourite' Vettel.
After Vettel went on to win the drivers' title and Red Bull claimed the constructors', Webber believes the competitive intensity generated by the pair's rivalry gained RBR more points that it lost due to the controversies.
"It's normal, when we have such an important thing at stake, that there are going to be times when it will be on the edge," said Webber during Red Bull's homecoming press conference in Austria today.
"And that's part of the journey - that's sport, that's what happens. You have these micro-battles which happen. Of course the media can make it a lot bigger on Monday or Tuesday compared to what it was, and that's something which we can't control.
"But in the end it's something that drove the team forward, maybe it fuelled the whole thing forward.
"Of course we lost some points with some of the rivalry getting too close, but in the end I think the team has collectively worked incredibly hard together, Sebastian and I have good respect for each other, and that's the important thing - that you can still, at the end of all of that, shake hands, after the battles that we did all around the world.
"It's not just us two on the track, people have to realise that, because there are different people trying to p*** on our fire as well, so we've got to think of the team as well."
Team boss Christian Horner agreed that Red Bull had gained from its intra-team angst in the end.
"They've raced against each other this year, they've pushed each other hard, but I think ultimately it's spurred each of them on and it's brought the best out of each of them," he said.
Webber added that he planned to fight Vettel just as hard in 2011, and had no intention of slipping into a support role having been defeated this year.
"I think if I'm turning up next year thinking that I'm going to follow Sebastian around then this is not the right way," said the Australian.
"Of course he deserves the world title this year. We know it could've gone four ways at the last race. It went Seb's way because he deserved it. We start again from the first race next year.
"Of course it's natural for me to continue to try and beat everybody. Obviously there's an added reward if you can beat the guy who has the same material as you, it's a rewarding thing in any technical sport.
"Sebastian's returning as a world champion and that's how it is, but I'm looking forward to next season and re-beginning the fight. We are going to start the battle again in Bahrain but everything has been reset."