Ricciardo: I'm ready for F1 race seat
| | |
| --- | --- |
| By Edd Straw and Matt Beer | Tuesday, November 16th 2010, 16:18 GMT |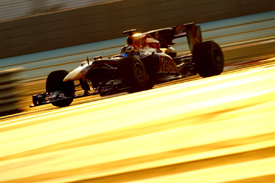 Red Bull reserve driver Daniel Ricciardo believes he is now ready for a Formula 1 race seat after setting the pace on the opening day of the young driver test in Abu Dhabi.
The Australian's pacesetting lap would have qualified him third on the grid for last weekend's grand prix, but the 2009 British Formula 3 champion and 2010 Formula Renault 3.5 runner-up said it was not just his speed that left him feeling he was now well-prepared for a race chance.
"I think it's hard to know when you're exactly ready but I think I've done quite a bit now in the junior categories and now this is my fourth proper day in an F1 car, so it's probably as much as you're going to get at this age, and with limited testing it's not easy," said Ricciardo.
"So I think I'm ready and tomorrow we'll try and do a few more long runs, maybe prepare more for a race situation to see how the body holds up, but I think I'm probably as ready as I can be."
He was pleasantly surprised that his time had compared so well to the race drivers' results. Although the circuit is believed to be quicker today with more rubber down than in qualifying, Ricciardo felt he could have gone faster still had he carried a proper Q3 fuel load.
"Realistically, I knew I could do a decent job but I really wasn't sure how close I could get to the big boys' times from the weekend, so it was quite cool. A bit closer than I thought," he said.
"It was quite a proper qualifying simulation, but we were a bit safe with fuel. If it was Q3, I think the boys would've taken a bit more out and run a bit closer to the edge, so maybe there's a bit more in there still, which is nice to know."
He acknowledged that stepping into the Red Bull fresh from its championship success had been a rare privilege.
"It's quite a pleasure," said the Australian.
"Throughout the year with World Series, or any junior category, you can get the perfect car, but it's very, very rare and this was very close to it. You brake and you turn and it does everything just as you hope and imagine it will."