Title battle tightens as Edwards wins
| | |
| --- | --- |
| By Diego Mejia | Monday, November 15th 2010, 04:20 GMT |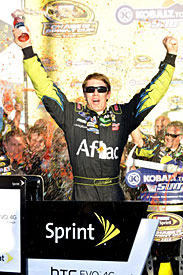 Carl Edwards ended a 70-race winless streak by gambling on fuel mileage at Phoenix, while the title battle tightened up even more heading into next week's season finale at Homestead.
Roush Fenway racer Edwards had led every practice session of the weekend and started from pole position but it was Chase leader Denny Hamlin who dominated for most of the 312-mile event, leading 190 laps during the afternoon.
However fuel calculations came into play in the closing laps of the race and Hamlin was one of those who elected to pit for fuel and two tyres, doing so with 14 laps remaining, while Edwards remained on track and in the lead, hoping to go the distance.
As the laps counted down Earnhardt Ganassi's Juan Pablo Montoya, who had taken fuel and four new tyres on the fifth and final caution with less than 80 laps remaining, was confident with his strategy in second place, closing the gap on Edwards.
The leader ran slower by the lap while managing the gap to Montoya and eventually he was able to keep a safe enough cushion to beat the odds and win for the first time since the 2008 season finale at Homestead.
"I though I had the best car and then here comes Denny Hamlin, Kyle Busch and Jimmie Johnson," said Edwards. "In the end to be able to make the fuel mileage work out was a little stressful but it worked."
Montoya surprisingly ran out of fuel on the final lap, allowing Newman to finish second ahead of Joe Gibbs Racing's Joey Logano, Greg Biffle and Johnson.
The reigning champion did not lead a lap but ran among the top 10 all day, following Edwards' path on fuel strategy and taking a valuable result that allowed him to cut Hamlin's lead in the Chase down to just 15 points, the smallest ever gap in the Chase between the top two heading into the final race.
"We ran well all day long - our pitstops were phenomenal and kept us out of trouble a lot because of the great stops on pitroad," said Johnson, who again had the crew that formerly served Jeff Gordon's car servicing his car in the pits after a mid-race swap at Texas last weekend.
"We had to work whatever magic we could there at the end and saved fuel and got it done. We have one heck of a points race going to Miami. I'm pumped. I'm so happy to put pressure on that #11 [Hamlin] team - we're ready to race for this thing."
Kevin Harvick also raced at the front for most of the day, although he did not lead a lap either. He charged back in the last part of the race following a penalty for a missing lug nut in a pitstop.
Whilst serving his penalty he took on fuel, doing so again on the last caution to make sure he had enough to go the distance, and picking up plenty of places in the last few laps to finish sixth. Harvick also closed on Hamlin in the Chase, 46 points now separating him from the top spot.
"Our mistake wound up being something that gained us more points than if we would have not made the mistake," said Harvick. "We just kept after it and wound up getting an okay day.
"I didn't ever know that it would come down to the last race and I guess it's 46 points, I don't know how far it is from first to second, but that's what we race for. An hour ago I would have told you we were done. But now we stand here talking about gaining 11 or 13 [points] or whatever we gained today and we'll go down [to Homestead] and still have a shot."
Hamlin was furious after the race finished, as fuel mileage and strategy robbed him of what would have been his ninth win of the season and one that would have placed him much closer to his maiden Sprint Cup title.
In the end he only managed 12th place, which did not do justice to the dominance he showed performance-wise throughout the day.
"Bad strategy at the end," rued Hamlin. "I couldn't control it. I did everything I was supposed to do today... usually we have the best fuel mileage. That part I don't understand."
The only way for Hamlin to be sure of clinching his first NASCAR Sprint Cup Series championship without counting on his rivals' misfortunes is by either finishing second while securing 10 bonus points for leading the most laps, or winning next Sunday's finale.
Pos  Driver                Car        Laps
 1.  Carl Edwards          Ford        312
 2.  Ryan Newman           Chevrolet   312
 3.  Joey Logano           Toyota      312
 4.  Greg Biffle           Ford        312
 5.  Jimmie Johnson        Chevrolet   312
 6.  Kevin Harvick         Chevrolet   312
 7.  Matt Kenseth          Ford        312
 8.  Mark Martin           Chevrolet   312
 9.  Kurt Busch            Dodge       312
10.  Jamie McMurray        Chevrolet   312
11.  Jeff Gordon           Chevrolet   312
12.  Denny Hamlin          Toyota      312
13.  Kyle Busch            Toyota      312
14.  Dale Earnhardt Jr     Chevrolet   312
15.  Martin Truex Jr       Toyota      312
16.  Juan Pablo Montoya    Chevrolet   312
17.  Tony Stewart          Chevrolet   312
18.  AJ Allmendinger       Ford        312
19.  Jeff Burton           Chevrolet   312
20.  Bobby Labonte         Chevrolet   311
21.  Clint Bowyer          Chevrolet   311
22.  Marcos Ambrose        Toyota      311
23.  Regan Smith           Chevrolet   311
24.  Casey Mears           Toyota      311
25.  David Ragan           Ford        310
26.  David Reutimann       Toyota      310
27.  Aric Almirola         Ford        310
28.  Elliott Sadler        Ford        310
29.  Paul Menard           Ford        310
30.  Kasey Kahne           Toyota      310
31.  JJ Yeley              Ford        309
32.  Sam Hornish Jr        Dodge       309
33.  Robby Gordon          Toyota      308
34.  Travis Kvapil         Ford        308
35.  Scott Speed           Toyota      307
36.  Tony Raines           Ford        306
37.  Dave Blaney           Chevrolet   306
38.  David Gilliland       Ford        274
39.  Mike Bliss            Toyota      193
40.  Landon Cassill        Toyota      191
41.  Terry Labonte         Dodge       190
42.  Brad Keselowski       Dodge        58
43.  Brendan Gaughan       Chevrolet     1