Montezemolo backs team after defeat
| | |
| --- | --- |
| By Simon Strang | Sunday, November 14th 2010, 19:19 GMT |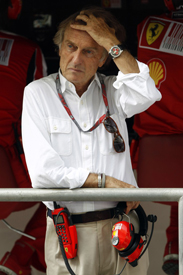 Ferrari president Luca di Montezemolo says that Fernando Alonso's failure to win the drivers' world championship should not cancel out the team's achievements over the course of the season.
As Alonso and Ferrari came to terms with the disappointment of losing the world championship to Sebastian Vettel, having come into the season finale with an eight-point advantage over Mark Webber, Montezemolo rallied behind his team and principal Stefano Domenicali.
"We believed in it right to the end and today's result should not cancel out what we have done this season," he said in a statement after the race. "In all but two of the last 14 years, Scuderia Ferrari Marlboro has reached the final race of the season either in the fight for the title or having already won it.
"Fernando has had an extraordinary season, demonstrating his strength and determination, always being close to the team and making an exceptional contribution.
"Domenicali has done a great job, keeping the team united at all times, even in the toughest moments. It will take us a little while to get over this disappointment but we have to keep our heads up and be proud of what we have done."
Montezemolo admitted that losing the world championship had come as a bitter blow, after Alonso's early pitstop in a tense Abu Dhabi finale saw him trapped behind Vitaly Petrov's Renault and unable to progress to the necessary target position of fourth that he needed for the title.
"Our morale is low after the conclusion to this season, but that's sport," said Montezemolo. "We had everything in place to win the title with Fernando but today, things did not go our way.
"All the same, I want to publicly thank the team for being capable of getting to the final round still in the fight for the Drivers' title, staging a fight back which back in July, almost everyone considered an impossible task.
He added: "Finally, I want to thank our fans, who have always believed in us: when one sees so many Ferrari flags and so many people coming to visit our park here in Abu Dhabi, I am happy that Ferrari is still operating at a high level, especially for them."